Quality Tools & Controls
Your motorcycle tools, cables, and controls specialist!
Account
News
Jordan Suzuki - Jake Holden Rides For Charity
posted Jul 30, 2007
Tags:
Racing
All Article Tags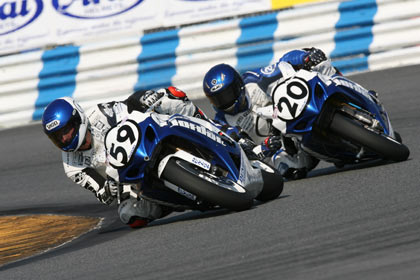 2006 AMA Superbike champion and current points leader Ben Spies of Yoshimura Suzuki will join Jordan Suzuki's Jake Holden, Chaz Davies of Celtic Yamaha, and Matsushima Performance Suzuki's Danny Eslick at this year's 5th Annual Renton Motorcycles "Seattle 100" Presented by 2Fast Motorcycle Track Days and Instruction. Former two time Superstock champion Jimmy Moore will also be on hand to talk about his recent successful ride in the Isle of Man TT.
The Seattle 100 is a charitable track day event that takes place this Saturday, July 28th at Seattle's Pacific Raceways in the beautiful Northwest. Proceeds of the event benefit the NephCure Foundation (www.nephcure.org), an organization dedicated to helping children and families fight the devastating effects of kidney disease.
"It's a cool event for a great cause" said Spies, who will now add his name to the list of top tier AMA racers to lend support to the Seattle 100. Past attendees have included Josh Hayes (four years in a row), Aaron Yates, Jake Zemke, Aaron Gobert, Jason DiSalvo, and Jason Pridmore among others. Greg White of Speed TV not only attended the event in 2004 and 2005, but featured this unique fundraiser on his "Two Wheeled Tuesday" show both years with some comedic help from fellow attendee and famous comedian, David Alan Grier.
"We could not be happier that Ben has decided to come up to Seattle and lend us his support this year," said Seattle 100 Director Brian Orton of 2Fast. Orton created the Seattle 100 in 2002 when his own son was diagnosed with a devastating form of kidney disease. "Ben's presence at this year's Seattle 100, along with our other celebrity guests past and present, is what has made the Seattle 100 such an incredible and unique fundraiser for Northwest motorcyclists. My sincere gratitude to Ben for helping this year's event become an even better one, and a special thanks to Jake Holden and his family for helping us get Ben interested in attending."
Last year's Seattle 100 grossed over $108,000 in donations, and funds raised are approaching the $500,000 mark in just five short years. This year's event is likely to break last year's record amount of donations raised, as the event is over-sold and record numbers of attendees are expected to come out.
Josh Hayes of Erion Racing along with teammate Aaron Gobert had planned to attend this year's event like they did last year, but schedule conflicts have kept them from being able to participate. Spies presence will certainly help fill their shoes, and this year's 2007 Seattle 100 is expected to draw the largest motorcycle track day crowd of the year in the Northwest's thriving track day scene.
For more information on the Seattle 100, please visit www.2-fast.org and visit the Seattle 100 links.
For questions or sponsorship inquiries, Brian Orton can be reached at (206) 715-4161 or by email at brian@2-fast.org.

Click on the link below to make a donation to support Jake and the NephCure Foundation