Quality Tools & Controls
Your motorcycle tools, cables, and controls specialist!
Account
DON'T WRITE ME OFF JUST YET" - SAID TYCO SUZUKI RIDER JOSH BROOKES
Oct 3, 2013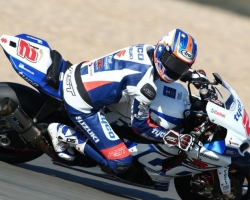 British Superbike Preview – Round 11, Silverstone
Josh Brookes remains focused and confident going into this weekend's penultimate round of the 2013 British Superbike Championship at Silverstone. The Tyco Suzuki rider, who is currently fourth in the standings, yet just 24 points behind series leader Shane Byrne, firmly believes it would be foolish for anyone to write him off as a potential championship challenger just yet.
His team-mate PJ Jacobsen comes to the Silverstone circuit in a buoyant mood following his maiden British Superbike podium in the Netherlands just a fortnight ago, aboard the #99 Tyco Suzuki GSX-R1000.
The young American will be gunning for something similar at the ultra-fast Northamptonshire track, but has two-fold aspirations, as he would like to assist Brookes, if possible, in the team's championship hunt.
Josh Brookes:
"I'm pretty happy that Shakey and Lowes are in the spotlight, as it leaves me to do my own thing in terms of preparation. The fact that the focus is drawn on them, means I wont be harassed that much for photos and interviews. It's maybe a blessing in disguise, but the people that are writing me off need to be careful, as this championship ain't over yet. I certainly don't intend taking a back seat and I'm going to make sure I'm as hard to beat as I've ever been on the Tyco Suzuki."
PJ Jacobsen:
"After my podium at Assen I'm really looking forward to the Silverstone circuit, which I think will suit my style and the GSX-R1000 even more so than Assen. There are going to be a lot of fast guys out there this weekend, but if we can qualify well I'm confident I can be up there fighting, and who knows I might even be able to help Josh a little if things go our way."

Philip Neill – Team Manager:
"In terms of the championship, as far as Josh is concerned, it has to be an all or nothing attitude this weekend at Silverstone. The last two rounds haven't gone to plan for various reasons however, as a team I feel we have addressed everything possible and there's absolutely no reason why Josh can't put his championship challenge back on track.
"He's shown good speed around Silverstone in the past and the track has been favourable to the GSX-R1000 in general. It really is an all out effort this weekend as a team. PJ is obviously gathering momentum at the right time of the season. We always said the last few tracks would suit him best, so we are looking forward to seeing him challenge at the front again this weekend.
"It's a tricky position for us to be in, as we now have a second rider at the sharp end who isn't challenging for the championship; but if certain circumstances present themselves, both PJ and Josh know exactly how I expect them to ride. In saying that, we are not going to Silverstone with a set team agenda."
Weekend Schedule
Saturday
14.35 – British Superbike Qualifying

Sunday
12.45 – British Superbike Race 1 [14 laps]
16.30 – British Superbike Race 2 [14 laps]
General News
,
Racing
All Article Tags