Quality Tools & Controls
Your motorcycle tools, cables, and controls specialist!
Account
Tyco Suzuki - THE SKY'S THE LIMIT WITH 'NO PRESSURE' AT BRANDS SEASON FINALE
Oct 17, 2013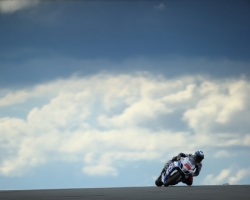 British Superbike Championship – Round 12 Brands Hatch Preview
This weekend will see the final three races in the 2013 British Superbike Championship, and although the title may be just out of reach for Tyco Suzuki's Josh Brookes, the Australian is intent on going out with a bang.
Brookes said: "After recent events there would be no better way to end the season than with three wins. It's a big ask but I certainly intend finishing the season on a high. All the pressure is on Shakey and Alex this weekend as they are the main championship challengers, but with the usual large crowd expected at Brands, I'll be looking to finish the season on the top step of that podium with Tyco Suzuki."
PJ Jacobsen will complete his debut season in British Superbike this weekend at Brands Hatch, and having impressed recently at Assen and Silverstone, the 20-year-old American rookie will be looking to join his team-mate on the podium.
Jacobsen said: "Yeah I'd love to finish the season off at Brands with another podium. Assen was a great place to have my first BSB podium with Tyco Suzuki, but in front of 60,000 fans, Brands would be a great place to do it again. I really enjoy the Brands GP circuit and if we can carry on from Assen and Silverstone, there's no reason why we can't be right up there again this weekend."
In British Supersport Taylor Mackenzie will also be looking to give a good account of himself in the final two races of his debut season with Tyco Suzuki. Mackenzie said: "I've really enjoyed my season with Tyco Suzuki riding the team's GSX-R600. I had a good run at Brands last year and with another year's experience, and on a bike which I feel is more suited to my riding style – I think we can end the season on a positive note and give the guys something to smile about."
Team Manager Philip Neill concluded: "It's one of those weekend's where despite it still being mathematically possible for us to win the championship, it would take a minor miracle from 58 points behind with only three races remaining. Our focus will be on finishing the season off strongly with all three riders on our Tyco Suzuki GSX-R machinery.
For Josh that means we will be looking for him to add to his win tally this season, and there's no reason why he cannot do that with the championship pressure now well and truly off him. With PJ there's every possibility he can push himself into podium contention after strong performances at Assen and Silverstone, but overall we want to put on a good performance for Suzuki, Tyco and all our associated sponsors and leave our mark on this season's championship campaign."
Brands Hatch Schedule
Saturday
11.35 – British Supersport Qualifying
12.15 – British Superbike Qualifying [Q1/Q2/Q3]
15.40 – British Superbike Race 1 [18 laps]
16.20 – British Supersport Race 1 [10 laps]

Sunday
12.30 – British Superbike Race 2 [20 laps]
13.30 – British Supersport Race 2 [12 laps]
16.00 – British Superbike Race 3 20 laps]
General News
,
Racing
All Article Tags