Quality Tools & Controls
Your motorcycle tools, cables, and controls specialist!
Account
Michael Allen VCMC Enduro Race Report
Nov 1, 2013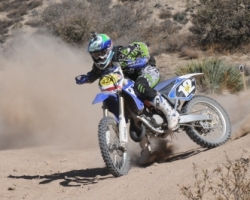 Every Year I look forward to the D-37 VCMC Quali-Fire enduro. It is always a good course and it gives you a chance to trail ride with your buddies between special tests. This race was supposed to happen last May, but had to be rescheduled for October due to a forest fire. The whole race was planned out perfectly. I had requested 2 minutes so that all of my friends could ride together. Sunday morning came and we made the 2 hour drive to the Hungry Valley SVRA, got our numbers, passed the sound test, and geared up for a fun day.
Loop one started with a fun and flowing 5 mile transfer section and was just enough time to get the bike warmed up and my body loosened up. Special one was long and fast. In some of the open sections I was held back by the gearing on the 125; all I could do was hold it wide open and hit the kill switch occasionally to lubricate the top end. After the special, I felt good and knew I had made very few mistakes and wanted to continue the rest of the day in the same manner. In between special one and two were 2 route checks and a mix of tight trails and rolling hills.
Special 2 was on a ridge with blue groove and very loose dirt on top and cliffs on both sides. Going through the test, I made a few mistakes where I misjudged corners and had to go very wide due to the slick conditions. Towards the end of the test, as I was coming down a steep trail I saw two racers blocking another unconscious woman racer from race traffic. I did all I could to miss her and pulled it off by inches. I asked if they wanted me to go get help to which they replied yes, so I took off to the end of the special and told them about the situation. On the trail ride back to the truck, I was surprised to see one last special. This was a fast one with excellent sand turns and small jumps, which led us back to the truck where we had a chance to eat a little food before starting loop two.
Loop 2 started with the same transfer section and special as loop one. The test was going great and I was passing multiple racers until I grabbed too much front brake in a tight left corner which sent me off a cliff, in turn making me have to pull my bike back up onto the trail and try to make up for lost time. Half way through the test, the course made a left and headed in an all new direction just before the finish with fun little jumps that were a little scary to hit at speed.
The transfer before the next special was tight and technica. I slowed my pace and cruised with friends having a blast, but before I knew it I looked at my route check times and when compared with my watch I had a feeling I was getting late, with only 3 minutes before I was supposed to leave the next check (which wasn't even in sight). I broke into a sprint and went for broke making it to the check with thirty seconds to spare. Special 5 was the same as test two except this time I made almost no mistakes and wasn't forced to avoid a downed rider. The test went great and after I finished, I waited for my friends to finish and we had a fun short trail ride back to the truck to relax before the final sixteen mile loop.
As we lined up for the final loop, I was happy that no one had been hurt or broken down and just wanted to enjoy the last few miles and not make mistakes. The start of this loop went a new way and led straight to a new special. It was short, fast and filled with deep sand whoops. I leaned back and held it wide open like I was racing supercross and skimmed them, everything was flowing and I made no mistakes. At this point I figured we were done but after a little trail ride I found myself at the start of special seven. This was the tightest test of all, almost all of which was single track with cliffs on both sides. I rode safe being sure not to make any stupid moves that would ruin my score for the day. About half way through, I came around acorner only to find about 7 riders in a bottleneck waiting to take turns at a tight left hand switchback with a rut in the inside line. Knowing I was in a test I was not about to wait around so I pointed my bike up the side of the hill and made my own way around the other riders and hopped back on the trail and was on my way, blasting through some more sand turns before the finish.
I decided to race this event on Dirt Rider Magazine's YZ 125 because I needed to race a LWT2 bike for points in the 125 class. I had so much fun racing the 125 and would like to thank Dirt Rider for giving me the opportunity to ride the little screamer. Being that it was an enduro, it takes about a day to get final results, but when I got a phone call from a fellow racer Monday night saying congratulations, I was confused and hetold me to go look at the results. I was surprised to find that I had won the 125A class and finished 2nd overall to Purvines Beta's Nick Burson. I would like to thank Malcolm Smith Motorsports, AmsOil, Moose Racing, Fasst company, TBT racing, Total Chaos Fabrication, AME, Motion Pro, Dunlop, Acerbis, SIDI, AVIK graphics, the Bangert family, and last but not least, my dad and girlfriend for fueling my bike and always being ready for whatever I need in the pits.
General News
,
Racing
All Article Tags