Quality Tools & Controls
Your motorcycle tools, cables, and controls specialist!
Account
VETMotorsports Launches "11 By 11" Veterans Day Fundraiser
Nov 5, 2013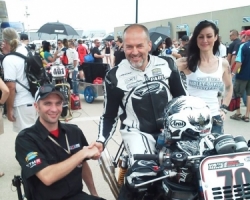 VETMotorsports has launched an "11 by 11 Veterans Day Fundraiser" to help fund their wounded combat veteran outreach program. VETMotorsports is asking for a tax-deductible donation of $11 or more between November 1st and Veterans Day, November 11th. All charitable donations go towards funding their wounded combat veteran outreach. Donations can be made at http://www.crowdrise.com/VETMotorsports or by PayPal at VETMotorsports@gmail.com
VETMotorsports is a recognized 501c3 tax-exempt outreach program that places combat veterans into motorsports events that are team-oriented, purposeful and goal driven with actual hands-on time. The non-clinical outreach ensures that the participants are empowered and engaged; making them central components to team operations and including as many caregivers, peers and family members as possible.
"We had a very successful year," states Peter Cline, Executive Director and Founder of VETMotorsports. "With the help of AMA Pro Racing, WERA and our partners we reached out nationwide to over 40 wounded veterans. VETMotorsports also launched two auto racing pilot projects in the central Ohio area, which places wounded veterans behind the wheel."
"Within the veteran community the word has spread about our program, and we already have a waiting list for 2014," continued Cline. "To accommodate the local veteran population at these events VETMotorsports needs to fundraise and seek corporate sponsorship. Our 11 by 11 Veterans Day Fundraiser will be the first of many events to help create a long term, sustainable program."
To learn more about VETMotorsports please visit them on the web atwww.vetmotorsports.org or follow them on Facebook athttp://facebook.com/VETMotorsports, Twitter @VETMotorsports or Pinterest http://www.pinterest.com/VETMotorsports/
General News
,
Racing
All Article Tags