Quality Tools & Controls
Your motorcycle tools, cables, and controls specialist!
Account
InSLIDE Line 50...Giving You The 2 to Go Flag
Dec 13, 2013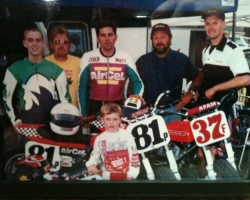 Hello, and welcome to the InSlide Line Presented by Bell Helmets. Wow, InSLIDE Line number 50. Oh how the weeks just roll by here at Fight For Dirt Track. It's funny, I never realize how fast the year has gone until I type the big Five Oh on the column. The good news is, unlike the old school Cycle News, we aren't just 50 weeks out of the year. No sir and no ma'am, we are a full 52 and have been for over 4 years...ok, I started the '08 season in like March or April, but I figured you'd let that slide. Though the year is ending, we still have news, so let's get to work.

First of all...this weekend, Sturgis Kentucky. IT HAS BEEN CANCELLED. Please pass this news along if you knew ANYBODY heading that way. Sorry for the late notice, but I just got the text from Steve Nace Racing after I originall posted the column.

Don't fret too much about the Sturgis Kentucky Indoor being cancelled, there are plenty of other races in the country to keep you occupied!
Waterloo, IA Short Track
Caldwell, ID Short Track
Puyallup, WA Short Track

Next weekend you can get one more race in before Santa heads down your chimney in Salem, Oregon on the 21st. Good on that crew for making sure that there was a race SOMEWHERE in the United States EVERY week of 2013. I would say that's a healthy sign of things right?

I was able to talk to AMA Pro Flattrack director Dan Johnsen this week for a while about the rules and such. First of all, I have to do a little sucking up because I tell you, the crew at AMA Pro is doing a great job. Sure, I haven't been around the sport for a long time compared to most others. However, in my 11 years being around the Pro stuff, I have NEVER seen a schedule AND a rules package out this soon. Speaking of rules package, I wanted to clear something up about the twins rules. The bulletin that they sent out was for EXPERTS ONLY. It stated that any bike UNDER 750cc was allowed to be bored and stroked to 750cc and that spacer plates were allowed. The rule was tweaked so that mainly guys with Kawasaki's wouldn't take their current motors and push them to 800cc or beyond. However, the Spacer Plate rule was allowed so that teams could add more stroke to the motor and be able to tune the motor characteristics that way. Dan explained that they had already given life back to the XR750 Harley's and if they let the Kawasaki's exploit the rule, then we would be starting from square one again as far as a level playing field went.

The side benefit of this is that teams can keep their bores small and build displacement through the stroke of the motor. From what I have been told, as far as bore and stroke, about 740cc was as much as you could get out of a Kawasaki before the cylinders couldn't handle a larger bore. The rules state that you must use an OEM cylinder, so making a nice billet cylinder was never an option. However, now tuners can keep the bore smaller, which is going to help reliability just a bit, and they can get their displacement through the stroke, which would in turn improve torque numbers, something that the Kawasaki needs more of anyway. Let me make it clear though that this is EXPERTS ONLY. In the Pro Twins division, stock displacement must be used on all motors.

Dan wasn't the only heavy hitter in the sport I was able to talk with this week either. I was lucky enough to catch Joe Kopp during some of his very precious free time and talk with him about all sorts of Triumphant things. The well known secret is that Joe is coming out of racing retirement. That has been going around for a while and is nothing new. He will be getting his "lifetime" number back, so the big number 3 will be at a few select events next season. Don't expect a full schedule. As acting team manager for the Latus Triumph Team, he told me that the team certainly comes first, but that there are certain tracks he would like to have another crack at if the team is running smoothly at the time. He hinted towards Lima, Pomona and the Colonial Downs Mega Mile in Virginia as his 3, but I bet he breaks out a 450 to do the Castle Rock TT also!

As for the rest of the team, they don't have anything finalized with any riders at press time. I was thinking that Johnny Lewis would return to the team, but I think that is up in the air right now. Hopefully JLew10 will be in the mix with them, and if not them, somewhere, because he is so gifted not only on the bike, but with media relations and that sort of thing away from the track.. We need a creative character like him in the sport! Joe however, did hint at the fact that there may be a pony tail hanging out of the back of one of the helmets next year. He was very tight lipped on who it was, but he said it was a possibility. The cool thing is that they have Triumph factory support. Triumph wants this. They are trying to take back their heritage in American racing. They are going after several different land speed records and are making a big push in flattrack. Hey, Harley Davidson isn't the only factory on the tour these days!

Don't forget about my good friends at Light Shoe! They want to help everybody out during the holidays and offer their amazing steel shoes at a special price. If you get your order in BEFORE December 31st, you are going to get your shoe for only $175. That's saving $50 off of the normal price! Get more information at www.lightshoe.com

This is that part of the column where I get up on my soap box. I talked to Jim Ricci from JSR Industriesthis week and he mentioned that not one single racer emailed him about the EZ "Port-a-Light"program.It's a very simple LED Portable light that can attach to nearly anything by use of the provided screws, magnets or zip ties. For each light sold, the racer gets a $10 check or $10 put into their paypal account. That's simple money. All a racer has to do is post something on facebook or twitter to their fans such as: "Looking for a way to help support my racing efforts? Go to www.jsrind.com and purchase these awesome LED Lights. You'll receive a great product and a little something special from me. All you need to do at (check out) is list my name in the (add special instructions to seller) field." It's that easy. You need to email Jim at jimjr@jsrind.com and provide your name, address, and a racing photo or two that YOU OWN (without a water mark on it!) and you will be set up. Guys and girls, this is FREE MONEY. Requires VERY little work and could possibly fund your entire year of racing. In fact, I'm going to go on this mission, every time I see a racer complaining about not having enough money to do something, I'm going to post right under them that they should be selling some lights. I saw a racer posting this week that he wishes he made more money racing so he could buy his girlfriend a Christmas present. Maybe go sell 50 lights and give her a teddy bear she won't forget. Not really sure what to tell you guys about sourcing funding if you aren't willing to take up a program that is being offered to you. We aren't in the land of hand outs, I don't care how fast you are. Oh, and remember, this isn't just for pros. Parents, if you want to get your kid to Amateur nationals this summer, we all know how expensive that is, start selling lights now and have a good chunk of change saved up by summer. Jim is really trying to do a great thing for our sport, let's make it worth his while!

Off the soap box and on to shameless self promotion! I got an email on Monday night from the guys at Pit Pass Radio. Now, I know a lot of the top dirt trackers have been on there from time to time, but I do believe that I was the first slow guy to make it on the program. Apparently they have been lurking in the corn fields outside of Des Moines Iowa and reading the column on Friday's for a little while and wanted to have me on. I tried to go in as prepared as I could, but you'd never guess that I took things off topic. It was a really fun time, and my first time on the air. If you heard me on the air and this is your first column, THANK YOU for joining us! Notice on the right of your screen that you can see read the last 5 columns if you want to catch up. Oh, and here's a little secret...if you want to see ANY of the columns from 2013, up there in your address bar, just change the number after the word "line" and it will get you to every week in 2013. Maybe you can look through and read how bad my predictions were from race to race!

The cool thing about the Pit Pass crew is that they are genuine dirt track fans. They love it. They always recognize it as the original extreme sport. They know the top guys, and from the sounds of things, I may be on the show more often, giving some in depth insight into the rules packages, predictions for the upcoming season and racers to watch for. Sure, I will have a lot of fun doing it, and do it in my own goofy way, but here's the big picture, being on air and talking about our sport and our racers could bring new fans on board. New fans are what we need. New fans put butts in seats, money in promoters pockets and then more races open up. When more races open up, promoters start padding purses to get us to show up. It's a trickle down affect people. Now this time on the show was VERY last minute notice. Hopefully if they have me on again, I will know the Friday before so I can post it in the column and you can tune in and hear what I have to say and laugh about it. If you want to hear what I had to say this time about Ron Burgandy, cows, Bobby Lewis, Steve Murray and my Grandmother, head on over towww.pitpassmoto.com and on the left of your screen there is a direct link to my interview. Yes, the topics were THAT random!

Ah, it's that time a year. The folks up North are making wonderful wonderful ice for us to ride on and the smell of fresh Pro Licenses is wafting through the air. I want to congratulate Zakk Palmer on moving back to the Expert Class. Zakk has the twins ride he always said he couldn't afford and will be back with the black numbers in 2014 according to what he is telling me. Going back to Expert? Yeah, Zakk has been Expert before. Let's hope he can channel some of his Springfield Magic and turn that into a National Number in 2014.

That's Zakk Palmer far left sporting some black letters back in the day!

In Amateur stuff, it looks like Luke Baird, Bri Hazen, Colton Smith and possibly Dusty Young will be joining the white numbered brigade for 2014. I have a feeling that not too many Pro Singles racers stepped up to Expert, and I know for certain that the 4 riders mentioned above aren't the only ones signing up for their pro card right now. We'll have a full and stacked class at all of the nationals for sure!


Bri Hazen Will Be 15C In Her Pro Debut

This year it looks like the Pro's will be running on twins equipment at select events. Two riders who already have a twins ride sorted out are Andrew Butler and Kolby Carlile. Andrew will be on Kawasaki equipment for the new year and is looking to build on his main event finish in Pomona this year. Kolby will be saddling up on John Faulkner's old TL1000 and hitting the race track. The "Flying Tomato" or "Mater" as I have named him looks pretty happy sitting on top of that bike doesn't he?



Also getting new bikes is the Pro Singles runner up is Ryan Wells. It looks like Ryan will be riding under the Waters Autobody KTM banner for the 2014 season and as you would guess it, KTM America kicked down 2 beautiful KTM 450's for him to go do some damage on. He has both bikes at Boughner Racing Suspension right now getting dialed in and will be testing soon. Being that Boughner Racing also works with the GNC Champion Brad Baker, and Brad is also on KTM's for 2014, I would say Mike Boughneris your go-to guy for incredible KTM suspension. I know Mike sure has my stuff dialed in!!

While Ryan will be on two new KTM 450's, Waters Auto Body is trying to sell his old equipment. One is a Honda 505 that has won a national before, the other is a Honda 450 and the Suzuki I THINK is a 250. They are asking $8,000 for all three bikes together. Would make a great Christmas present!




It was released last week that Defy All Odds clothing founder Cory Texter will be coming back to the GNC series for 2014. Cory will be piloting the Racing Unlimited Kawasaki's that were campaigned by his sister Shayna in route to her big wins in Springfield this year. Originally those bikes were slated to be ridden by Rob Pearson in a sort of partnership with Weirbach Racing, but from talking to Rob, it seems like the two teams have decided against merging and Racing Unlimited will field Texter on the Kawasaki's while Rob will stick with Dick Weirbach and be on their beautiful Harley Davidson and their equally fast Suzuki for the upcoming season.

It sure is a great time of year to hear of so many racers being picked up and being taken care of! FirstKenny Coolbeth, then Brad Baker, now we have Pearson, Texter, Wells, Carlile, Butler and more all seeming to be making things happening. I do have to wonder what Bryan Smith is up to. I'm hearing he has bikes and is looking to secure funding to keep going. What about Henry Wiles? He hasn't returned my phone calls, and I wonder what he is up to. It seems like Jeffrey Carver will be back with Kiesow Racingat this time, but I'm not totally sure about that. One thing is for certain, as I get the news coming in, I will make sure you guys have it first!

That's all I have for the week. It sure is nice being home this weekend, that is really rare for me. I sure wanted to go racing in Sturgis, but hey, stuff happens. I hope everybody has a great weekend and we'll be back next week...hopefully from up North which will mean I will be ice riding!

Best Of's



Coldest Texan: Merle Scherb



Most Prepared Texan: Willie McCoy (Check out the bike batteries and studs!)



Dirtiest Road Racer: Hayden Gillim (Benny Tozzi Photo)
General News
,
Racing
All Article Tags