Quality Tools & Controls
Your motorcycle tools, cables, and controls specialist!
Account
InSLIDE Line 51....The White Flag Lap!
Dec 20, 2013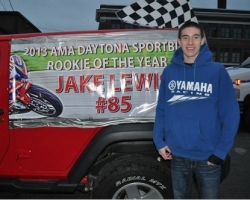 Hello, and welcome to the InSlide Line Presented by Bell Helmets. InSLIDE Line 51. Some would call this the Steve Murray edition. Heck, being number 51 it could even be the Babe DeMay edition if you want to hop in the way back machine.. I'm going to call it the White Flag Edition. Only one more column to go in 2013 and man, what a year it has been! I'll spare you the flash back right now, you'll have to wait until next week for that one. This column is coming to you from just outside of Peoria Illinois. I have ventured up here to work on some things for Memphis Shades and my 2014 race program as well as enjoy a little vacation and do some ice riding. The bad news was that it has been too warm to get on the ice, so hey, I'll just get this column ready to go and you guys can enjoy YOUR weekend. Without further delay, let's get to work.

First of all, I had to update the column 3 times last week, and some of you early birds may have read the other versions. If you read it before 9:30am last Friday, you saw how we were inviting you to come race with us in Sturgis Kentucky. The earliest version had us inviting you to come out, but cautioning to watch the weather as their is no need to put yourself in a spot where you are driving on terrible roads to make it to an indoor race. Then, I reviewed the weather and saw that locally, it wasn't going to be too bad. I fired the laptop back up and said "COME ON DOWN!" without trying to have some motherly instincts kick in. Right after I posted that, I got a text message from the Steve Nace Racing crew saying that the race was cancelled. Update number three was in progress shortly thereafter.

Listen, Steve Nace doesn't just cancel races for no reason, especially last minute. I know a few of you were already on the road, and I know how it is to drive somewhere only to have to turn around. I've done it several times, but such is life. The threat of winter weather up north last weekend was the reason for the cancellation. I would say 90% of our racers in the Midwest Indoor Series come from the north to race with us, and it just wasn't worth the risk to have all of them either staying home because of the weather or putting things at risk to make it down to us. The good news is...we are ON for December 28th! It's theEthan Gillim Memorial race inside the Southern Illinois Center in DuQuoin Illinois and this is usually the biggest indoor race of the year in the Mid West. Bring all of your Christmas toys and new race gear to the track and we'll do our best to get everything dirty. For all of the information you need, check outwww.stevenaceracing.com

This weekend you can get one more race in before Santa heads down your chimney in Salem, Oregon on the 21st.

Next weekend the racing gets going again with one last big hurrah before we settle into 2014. The only thing I'm finding on the Fight For Dirt Track Schedules Page is next week's race in DuQuoin Illinois. Seems like DuQuoin is going to be the place to be!



Don't forget about my good friends at Light Shoe! They want to help everybody out during the holidays and offer their amazing steel shoes at a special price. If you get your order in BEFORE December 31st, you are going to get your shoe for only $175. That's saving $50 off of the normal price! You only have a few more days to save some money, so you better do it now. Get more information at www.lightshoe.com

Big props go to Pro Singles rookie Bri Hazen for being the first racer to sign up for the EZ "Port-a-Light"program. It's a very simple LED Portable light that can attach to nearly anything by use of the provided screws, magnets or zip ties. For each light sold, the racer gets a $10 check or $10 put into their paypal account. That's simple money. All a racer has to do is post something on facebook or twitter to their fans such as: "Looking for a way to help support my racing efforts? Go to www.jsrind.com and purchase these awesome LED Lights. You'll receive a great product and a little something special from me. All you need to do at (check out) is list my name in the (add special instructions to seller) field." It's that easy. You need to email Jim at jimjr@jsrind.com and provide your name, address, and a racing photo or two that YOU OWN (without a water mark on it!) and you will be set up. If you are wanting to try out one of these lights, purchase one at www.jsrind.com and type in "Bri Hazen" in the "special instructions" field and she will have $10 put in her race account. Trust me, it feels good to help our racers out!

After the column was posted last week, I got a little correction from the owner of Racing Unlimited Kawasaki. While Rob Pearson will be riding for the Weirbach Racing Team, he will be doing so aboard a Racing Unlimited Kawasaki. These two teams started working together last season but the bike wasn't wrapped up until Springfield, where Shayna Texter rode it, and Rob stayed on the tried and trueWeirbach Racing Harley's and their Suzuki. The Weirbach crew did send along these pictures this week, so their Kawasaki is progressing nicely!



This is coming a little bit from the Road Racing side of things, but he started as a dirt tracker and he's a local kid that I'm proud of, so I'm going to include it. One of Kentucky's brightest stars making big progress in the road racing world is Jake Lewis. You may have heard me mention him on the Pit Pass Radio show a couple of weeks ago. Well, Jake hails from the small town of Princeton and they placed him as the grand marshal of their Christmas Parade. Pretty neat deal, and you can tell this is in Kentucky by the use of duct tape to hold the banner on the vehicle.


I have been doing a little bit of work on the side for Side Burn Magazine over the last couple of months. I just penned an article for them this week that will be in the next issue but one of the topics that came up in our meeting was the fact that a lot of flattrack fans in Europe see our racers on nearly the same level as the World Superbike or even MotoGP guys. A lot of them think that our top Experts have a contract to do just the Grand Nationals and they are all rich and famous here at home. Most of us know that isn't the case. One of my favorite racers to talk to, Jake Johnson, posted the picture below earlier in the week. Not only is he the rider for Lloyd Brothers Motorsports, but he's also their machinist. This appears to be a rear brake hanger, and it sure is pretty. Nice to know that Jake is good for something other than just going fast and being funny!



Last week we told you about Ryan Wells and his new KTM deal. Well, thanks to the incredible folks atBoughner Racing Suspension, they have his new KTM's lowered and ready to race! I gave Ryan a little grief for having different colored wheels (a pet peeve of mine) but he let me know quickly that he is building a rear wheel to match. I REALLY love the way these KTM's look and with Ryan on them along with Brad Baker and Wyatt Maguire, plus the Bromley Brothers who have been on them for a long time, you are going to see a lot of orange in the main events in 2014.



Speaking of Wyatt Maguire, he posted the picture below and said "I got my national number for 2014". Well...that would mean that Wyatt is choosing NOT to defend his Pro Singles Championship and move straight to the Expert Class for 2014. This is a move that I REALLY like! I hope this will be confirmed soon. He also didn't list what number he chose, but his number 18 should be available being that the last holder of the number, Logan Scherb, did not score any points in the 2013 season. Best of luck in 2014 Wyatt!



I was in Memphis earlier in the week hanging out at the factory and actually learning for myself how we make our windshields. They even turned me loose and I made a few things! In the back corner of our factory is Babe DeMay's race shop. Since I stay with Babe while I am in Memphis, I always sneak back to the shop and see what he is tinkering with. He has been working with some vintage racers building equipment for them and he's gearing up for the 2014 season and had one XR750 sitting on the lift nearly ready to go to the dyno. I did take this cool picture though and it just illustrates to me how awesome I'm hoping our racing is this year now that our restrictors have been thrown in the garbage per say. Open 'em up boys!


WIDE OPEN!

The biggest news to pump through the veins of dirt track was concerning our champ Brad Baker. Not only did Cycle News do a great article on him, his championship, and how he came up through the ranks, but MotoGP champion Marc Marquez invited him to a short track race in Spain. Now, this isn't just ANY short track race in Spain. Nope, this is the Superprestigio. Isn't that fun to say? This race used to be very popular a lot of years ago and it combined racers from all sorts of disciplines in just a fun race for the fans to see. Marquez is bringing the tradition back and if you are going to have top racers from other types of racing, why wouldn't you have the top dirt tracker in the world? This race is on an indoor short track, but from what the website says, the bikes will have Supermoto Rain Tires on them. Now, this is a spanish website, where dirt track isn't popular, so I'm not sure if they posted that to try to explain things or if that is some sort of rule for the event. I'm hoping Brad will get to run his normal 19" tire set up so he will be comfortable from the get-go. How do I think he'll do? I think he'll blister these guys! They dirt track for fun, usually at their private compounds, and usually with no real competition around. While I'm sure they are fast...and faster than me, I don't think they'll have anything for Brad.

What does that mean for our sport? Well, if Brad goes over there and lays waste to the competition, they probably won't invite him back. All joking aside, if he goes out and wins, it could be HUGE for the sport. This event gets a TON of media coverage in Europe and when they hear the "unknown" name of Brad Baker, they are going to start researching who this kid is and what he does. It could potentially get us a lot of extra coverage and fans. What happens if he loses? Let's not think about this. Brad isn't the first American to go over there and do this event, there have been others in the past, but in the past the format was a little different and it wasn't just a plain short track. It really seems that the deck is stacked in Brad's favor for this event and let's all hope he can bring it home for the red, white and blue. The race takes place January 11th and I'm hoping there is some way to see it live on the internet, but I'm not sure at this time.

With 2013 winding down and everybody looking forward for 2014 it can seem like a boring time of the year. However, if you are a racer or a race team, this is one of the busiest times of the year. I have been working with a few racers on some sponsorship stuff and even wrote one team's sponsorship proposal this week. I was excited to write it because if it goes through, we could see a large mainstream company come on board in dirt track. That is a little nerve racking too though, because if they don't come on board, was it my fault for writing the proposal? That's something I always think about! Other teams are getting things finalized with bikes, financials and schedules and I am SUPPOSED to have official word on what is going on for at least one team on Monday, so maybe we will talk about that next week in the column.

That's all from me this week. I'm going to get everything buttoned up on the site, get my business taken care of here in Peoria and then go on the search for some rideable ice. Hopefully it doesn't take me too far north! I hope you all have a very safe and merry Christmas and enjoy your time with family and friends. Oh, and I hope Santa brings you lots of tires and new race gear!

Best Of's



Best Christmas Decorations: Rhonda Waters



Best Christmas Shopper: Darren Carter



Most Expensive Scrap Metal: Babe DeMay
General News
,
Racing
All Article Tags