Quality Tools & Controls
Your motorcycle tools, cables, and controls specialist!
Account
InSLIDE Line 2...It's All About The Green
Jan 10, 2014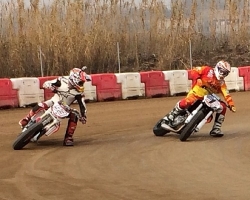 Hello, and welcome to the InSlide Line Presented by Boughner Racing Suspension. It's week two of 2014 and this column is coming to you from 30,000 feet as I head West for the first sales event of the year for Memphis Shades in Phoenix Arizona. I won't lie, I really like typing out the column on airplanes, people start to believe that I'm doing important work. That, and the fact that every so often a friendly person comes by and brings me a ginger ale or cranberry juice. Regardless of my situation, we have some racing going on, so let's get to the news!

This weekend we are racing all over the country! The icy grip of winter is easing up in some spots, so throw down the snow shovels and pick up the steel shoe and make it to a race!
DuQuoin, IL Short Track and TT
Salem, OR Short Track
Shawnee, OK Short Track Mary Adams Memorial Race www.franksmotorsports.net
Las Vegas Indoor, South Point Casino, Las Vegas Nevada

Next weekend the racing continues with the following races.
Caldwell, ID Short Track (Two Day Event!)
Puyallup, WA Short Track

You'll notice I stuck the famous Las Vegas indoor race inside the South Point Casino down there at the bottom of the "this weekend's races" section. I totally forgot about this annual race because nobody sent me any information on it. However, to racers, this thing is a HUGE deal. Most of the California riders use this race as one of the few opportunities that they have to race during the winter time. After issues with the dirt for a few years, promoters did the right thing and just left the polished concrete down for the racers to battle on. Typically most of the big names head out for this one. While I don't have a rider's list, I have seen a lot of interest buzzing and I know that Zanotti Racing plans on having Kenny Coolbeth out there to do some racing. Their other rider, Stevie Bonsey will be on the side lines. While he was last year's big winner, he has decided to save his recovering knee until Daytona. I'll try my best to get some results on this race for you guys!

In 2 weeks nearly 100 teams will be hitting the lake in Campbellsport Wisconsin for the annual Steel Shoe Fund 3-Hour endurance race. Race headquarters is at Nan Seas Tiki Bar where there is plenty of room to stay warm before and after the race! If you need some event information, just head over towww.steelshoefund.org and try to make it out for this annual charity event that helps injured dirt trackers!

Well our National Champion Brad Baker has made it safely over to Spain for the Superprestigio event in Barcelona. Brad has been posting pictures on his social media outlets and from being on Spanish National Television to riding with MotoGP Marc Marquez and taking some exciting scooter rides through the city, I think it's safe to say that Brad is enjoying his trip. Brad isn't alone over there though. It was announced this week that Merle Scherb would also be heading over to Spain with the help of his boss, MotoGP racer and fellow Texan Colin Edwards. Merle also did some training on 17's with rain slicks bolted up before he left, so he should be comfortable enough to go show the Euro's what we are made of. Best of luck boys! Below is a pictures of Brad and Marc Marquez riding together

This event is a bit different in how it works. There are three classes. The Superprestigio class, which is the motogp and world road race guys, then the the Open Class where riders from all disciplines get to race on an "invitation only" basis. There are 36 riders in the open class, and their disciplines range from Spanish Supermotard Champion to World Enduro riders. Lastly is the Junior class. Brad and Merle will be in the Open class. While Brad and Merle won't be duking it out with the top road race guys off the bat, there is the "Grand Final" wehre the top 3 from the Superprestigio class battle the top 3 from the Open class, plus, 2 other riders that the promoter chooses. I think this is to ensure that no matter if he qualifies or not, the host, Marc Marquez will find himself in the Grand Final. So, if Brad and Merle both survive their class, you're HOPEFULLY going to see them show the best in the world how we do it in America! It will be excellent exposure for our sport! While the race won't be aired live on the internet for us to watch, you can follow them on Twitter where I'm sure they will have race updates @dtxbarcelona or on facebook atwww.facebook.com/dtxbarcelona

Brad and Merle aren't the only racers heading over seas either! Yesterday both Sammy Halbert andHenry Wiles are headed to Australia to take part in the Troy Bayliss Classic which is actually next weekend. Because of the long flight, and the testing that both racers will need to do, they will be getting a little jump start. Now, like the Superprestigio, this event combines racers from all different disciplines. However, unlike the Superprestigio, this isn't just an oval short track. From what I can tell, this race is an oiled dirt TT track and most of the guys ride supermoto bikes with grooved tires. The place looks FAST! Good luck boys! Oh, and do you know who the defending champ of the event is? None other than Mick Kirkness! That should be a race, Mick, Sammy and Henry all duking it out, three of the toughest racers to come out of the current generation of riders.

Brandon Robinson finalized his plans for the 2014 season and if you didn't take a moment to read the full press release on our home page, I'll sum it up real quick for you. Brandon will be piloting Kawasaki's at both the Singles and Twins events once again this year under the USC Kawasaki and Hart Racingbanners. This is very similar to the team from last year with the exception of Burnett Farms, who have refocused their racing efforts for 2014 and from what I understand will be supporting Pro Singles rookieDavis Fisher. The USC/Hart Racing team will be switching to Hot-Shot Motorworks for their engine development and will also be supported by James Stevens Racing. Best of luck to everyone involved!

Congratulations to Will Cato and Jacob Shoemaker for their new earned national numbers! Both riders will be dropping their district letters and keeping their old numbers. For Will Cato, that means dropping his regional letter of "C" (most of the south east, Cato hails from Tennessee) and will be your new national 35, and Jake will drop the "A" (most of the lower east coast) and will be running his number 55. This is a huge step for any racer and I'm sure both of these hard working guys are ready to show off their new plates. Will Cato earned his number by making the Grand National main event in Peoria and Jake Shoemaker stormed into the main event in his first ever Expert race in Hagerstown where he eventually finished 2nd in one of the best walk off rides in the history of our sport.

For the last few weeks, I have been challenging fans to open up their pockets to help out the racers that they love the most. Like a grass roots sort of thing. Well, I'm not sure if my timing was perfect (it never is) or some racers read my column, but all week on the ole facebook feed I have been seeing endless amounts of racers using the popular fund raising site GoFundMe.com to try to add some money to their race programs. Like most things, there are two very opposing views on this. For the casual fan who knows the rider's names but maybe is a little shy about approaching racers at the track or maybe somebody who can't make it to events, this is a great thing. Find your favorite racer on that site and throw a few bucks into their offering plate. You can't really knock the racers for trying it either. It's an easy, mainly free way for them to add a little jingle to their pocket. However, the site is typically for charities and entrepreneurs looking to start something big with their original cause or idea. While I don't discourage people from adding to these racer's funds, in fact, donate all you can because every little bit helps, I would exercise a bit of caution while doing so.

For one, most of the racers popping up on GoFundMe are racing at the professional level. I can't emphasize the word PROFESSIONAL enough in our title. Asking for random hand outs is not professional and it's not the way to make things last in the sport. True support is forged through relationships built up over time. Now, I FULLY understand the racers who are new to the game and don't know anybody in the business or even where to look for help. I have been there. Heck, I was still there not too long ago. I had to rely on my friends with connections for contact information. Sent thousands of emails to people, tracked people down in the pits, bought business cards, gave away a lot of t-shirts and luckily landed a job in the industry where I have to interact with the powers that be on a daily basis. Sure, there are still people I haven't reached, but it doesn't mean I haven't tried. This is the guy who walked nearly a mile in a trade show in Italy to track down a hard to find exhaust manufacturer in hopes that I could PURCHASE a part from them. Racers, sometimes you have to put a little effort in and invest in yourself to get the real pay out.

While sites like GoFundMe are a cheap, easy way generate a few bucks, why don't you use that money to invest in a website of your own? Listen, facebook isn't where you post race reports. You can't rely on social media alone. It takes some investment, it takes being creative, and most of all, it takes time. If you are pulling in funds on your GoFundMe page, AWESOME! However, you better make sure that each donation, no matter the size, receives a thank you of some sort. Some racers are including prizes with certain size donations, which I think is cool. I'm not totally discouraging the use of GoFundMe, I'm just advising that everyone use it very responsibly or our sport in general will begin to look even more amateur.

I have seen a lot in my years around the sport. From racers who tell people they are doing the whole series and need an "x" amount of funding to do it, then only do 2 rounds and use the money for personal expenses, to the racers who hoard free product and then try to sell it for profit. That alone causes mistrust with the people who help you out the most. That is the quickest way to put our sport back 10 years. Oh wait, 10 years ago was the good ole days wasn't it? Racers and fans alike, just be very responsible with your fund raising and fund giving efforts and think about the greater good of our incredible sport.

As most of you know, the Monster Energy Supercross Season kicked off last week. Yes, I know, this is a dirttrack column, but I read a little buzz on facebook about why dirttrackers seem to be more excited about supercross than their own series. For most of us, it's an escape from boredom! You know why so few of us mention outdoor motocross in the summer? Because we are out racing! However, supercross is where we get to see the latest technology for the first time, it's live on a major network for every round this year, and oh yeah, it's winter time and they are racing when a lot of us are a little bored. For the second year in a row, I have entered a supercross fantasy league with the President of Aid To Injured Riders, Nicalee Sowders and after round one, she is only beating me by 119 positions. I have a little work to do I suppose. It's not that we think the racing is better than dirttrack. The last lap stuff pass in the 250 class was very dirttrack-ish and James Stewart's huge crash while charging through the pack or the rookie Ken Roczen's first premier win evoked emotions like we felt in our sport last year. No matter how close the racing is, it isn't dirt track. While Supercross has 17 rounds and maybe 3 or 4 of them are exciting each year, of our 16 races on the schedule, I can almost promise you that 13 of them will include seat of your pants, tooth and nail, barn burner action until the checkered flags.

Oh yeah, the supercross guys get the cool stuff first like I mentioned. Here's the new Air Fork design onBrock Tickle's RCH Suzuki. Has a little extra bladder action going on there.



While you can't see the Superprestigio event online this weekend, you can get your dirt track fix! By downloading the UStream app on your phone or tablet, you have access to all sorts of AMA Pro Racingaction. Re-Watch the races you can't forget, or finally get to see a race that you missed. Don't want to use an app on your phone or tablet? That's fine, the same content can be found on the AMA Pro Racingwebsite on their "Online DVR". Here's the link! AMA PRO Online DVR

I've been marching up and down my pulpit for what seems like months now trying to illustrate that the sky isn't falling in dirt track. Well, some really great proof of that showed up this week when the AMA Pro Road Race schedule was released. They have 5 venues for a total of 10 events. After all these years of dirt trackers wanting to go road racing, man, it looks like we may have the greener grass over on our side! In fact, if DuQuoin 2 weeks ago was any indication, road racers may start flooding over to dirt track. Ryan Kerr was there trying his hand at things and Larry Pegram bought a 450 and came out to play. I'm perfectly fine with it, especially if they bring their big budgets, fancy haulers and outside of the industry sponsors with them! With the road racing crew having such an abbreviated schedule, it gives the dirt tracking road racers like JD Beach, Roger Lee Hayden, James Rispoli, Eric Stump, Hayden Gillim, Nick McFadden or Jake Lewis more time to get to some dirt track events. As it stands right now, we have a 16 round, full coast to coast series at some incredible venues!

I don't follow a lot of road racers within social media, but purely out of my Kentucky born pride, I follow the Kentucky bunch. What I saw from Roger Lee Hayden and Nick McFadden this week when their tiny schedule was released was awesome, and I sure hope other road racers are doing it, and maybe we dirt trackers can learn a lesson here. The lesson? That bashing our sanctioning body and sport in public does so much more harm than good. Here's what Roger had to say: "I know the 5 race schedule isn't the ideal season. But instead of bashing the series, making it look even worse, and more of a joke to the fans and sponsors, let's get behind it and make the best of it and try and turn this thing around." Nick McFaddenbacked it up with this: "We may only have 5 rounds in AMA, but at least we have a series to race in! Most of you are not happy, but go out and put everything you've got into it those 5 weekends and it will be great!" In dirt track, let's use that attitude as both racers and fans and make the 16 round series that we have been given one for the record books!

Speaking of AMA Pro Racing, some of you saw the picture below pop up around the internet this week and it caused a widespread panic, mainly among Honda owners.


Trust me, Dan Johnsen heard you all loud and clear. When I talked to him this week he said he was completely flooded with calls. In addition to them adding the 2014 models to the KTM line up, this list is PROVISIONAL. It was largely based on the homologation paperwork that AMA Pro Racing had on file from the Manufacturers. You have to remember that AMA Pro Racing was started in 2009, so many manufacturers, except for Kawasaki only sent them paperwork for the 2009 and later models. DO NOT FEAR. THERE IS NO YEAR RULE. However, you do need to email technical director Al Luddington if you are riding a bike that is not listed to make sure that it is eligible for competition before Daytona. This will mainly be owners of Honda's that are from 2002-2008.

Manufacturer support is one thing our sport has been lacking for a while. Sure, we have Factory Harley Davidson involved, Triumph is in our sport at a factory level and Ducati sends a little help our way too. However, we have lost Kawasaki, Honda and Suzuki. Yamaha has even maintained a level of interest by helping Sammy Halbert with bikes and parts the last few seasons, they are helping JD Beach with his new singles equipment and have been helping Babe DeMay develop several viable twins platforms over the last few years. Maybe with their new MT-07 motor whey will come back fully into the fold. KTM is spreading the wealth around right now by supporting Brad Baker, Ryan Wells, Johnny Lewis and I think they are sending a little support to the Bromley Brothers also. Lots of Orange in the pits for 2014 is what I'm predicting! However, I want to issue a challenge to the racers. No matter your skill level or class, I know we all love posting pictures of our bikes and race shots of ourselves on Instagram, Facebook, Twitter and more. Between everyone that I follow, it's a LOT of racebike shots. Here's what I want you to do, make our voices heard to the manufacturers. Trust me, somebody mans their social media, and being that social media is so important in today's market place, let's let our voices be heard. Hey, it's free! For every race bike shot that you post, whether you are on the bike or not, hash tag the thing with the Make and Model along with tag the manufacturer in the title. Maybe we get some retweets, some share's, some likes, some follows. It's FREE and it could really start generating a buzz for us.

So, to help things out, if you are posting pictures of your Hondas, you can tag them on Facebook with@hondapowersports, twitter is @hondapowersprts (notice the "o" is gone) and I don't see a link for an Instagram account, so just be sure to hash tag Honda and the model. For Kawasaki, Facebook with@kawsakiUSA, Twitter, @kawasakionline and instagram is also @kawasakionline. Suzuki, they are@suzukicycles on Facebook, Instagram and Twitter. Simple enough! Yamaha: Facebook and twitter are both @yamahamotorusa. If you want to tag your Harley Davidson, use @harley-davidson for Facebook, @harleydavidson for Twitter and their Instagram handle is @harleydavidson also. They have a big hashtag movement on instagram that you should join along in when tagging your Harley, they are all using # stereotypicalharley, so you may want to join in with that. I've covered the major bases here, if you are riding a brand other than listed, make sure to look them up. I have resisted hashtags as long as possible, but learning what I have, I see their importance to companies. It's a small simple thing that we could do to show the manufacturers that we are buying their product, and quite a bit of it. Who knows, maybe they will pay attention and send some support our way.

It's not just about the manufacturers knowing that we exist either, for each one of those brands, they have thousands of followers who are now going to see your posts, maybe they follow along with your racing adventures, maybe they buy tickets to a race, maybe they come visit you in the pits and buy a t-shirt, maybe they find your GoFundMe.com site and donate. It's a small seed that produces a large tree. Let's just make this our collective New Year's resolution and while we are picking up these new fans and followers, let's all remember to keep our posts PROFESSIONAL (or create a separate personal page and limit who you add!)

That's all I have this week. I have to thank this wonderful dry airplane air for clearing my head to provide you with this column. I hope you are able to get out and enjoy some racing action for yourself or maybe you have some quality ice to ride, or maybe you are one of the lucky ones WAY down south who can get out and enjoy nature this time of year! Either way, thank you for reading and we'll see you next week!

Best Of's



Fastest Sushi Chef: Jake Johnson



Most Well Used Sprocket: Molly Terry



Best Use of Used Tires: Lance Kent


Nice Shirt Lance!
General News
,
Racing
All Article Tags