Quality Tools & Controls
Your motorcycle tools, cables, and controls specialist!
Account
Red Cross Controversy Strikes Rockstar Energy Racing Again
Jan 20, 2014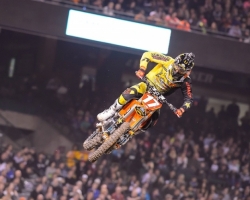 Los Angeles, CA (January 20, 2014) - There tends to be a gray area perception when it comes to rulings pertaining to the waving of red cross flags. One year ago, there was an instance where Davi Millsaps was actually passed on the flag and nothing was enforced. In that same race, a penalty was administered to Ryan Villopoto, but was implemented on the red flag restart as opposed to the end of the race as one would expect. Millsaps lost points and was hampered by those results. Rockstar Energy Racing was once again involved with similar controversy this weekend during the second of three trips to Angels Stadium.
Jason Anderson has experienced a stellar start to the 2014 season, going undefeated in the first two rounds. Anaheim 2 started much the same way with Jason recording the fastest practice qualifying time and backing that up with a heat race win. His main event started with a little more adversity this week however. Exiting turn one, Justin Hill went down entering the first rhythm section as his bike landed perpendicular to the track direction, blocking nearly half the lane. Anderson barely squeezed in between the bike and the tough blocks on the edge of the track. He then had to avoid Hill who was dodging bikes trying not to get run over. Finally after staying up after that, JA was forced to single the big turn double at the end of the straight. He was mired in the back and had a lot of ground to make up on Cole Seely who was out front. He moved through the pack so quickly, it was almost as if there was no one there. Jason made his way all the way into 2nd place and the stage was set for another possible last lap dramatic pass. There just wasn't enough time this week though as Jason cut the distance in half but was unable completely close the gap. He was able to secure the 2nd spot on the podium though and remain the points leader. That was until of course the controversy struck. According to officials, Anderson had jumped on a red cross flag in the middle of the race. A ruling that was made on an opinion and still leaving questions over whether or not it was valid and perhaps even why he was the only one under scrutiny. Anderson was docked 2 positions, stripping him of the points lead and the red plate. The decision was final and there is nothing that can be done but to move on. Jason is now more fired up than ever and has always been very fast in Oakland where the next round will be held.
Jason Anderson: "Today was alright, I salvaged a 2nd but received a penalty and was docked 2 positions. I felt like I still dodged a couple bullets tonight and I need to keep my momentum going. I want the championship at the end of the year."
Ivan Tedesco is still continuing to improve. His speed is getting better and that was evident Saturday night. One thing that was holding him back this time was his starts. Usually a very good rider off the line, that was just not the case at A2. He was forced to come through the pack every time he lined up. Even with that issue, he was still able to qualify out of the semi, thus avoiding the treacherous LCQ. He again was near the back of the pack at the beginning of the main but he put his head down and moved forward. He was able to get as far up as 13th where he finished. Perhaps the challenges he faced will actually be something to build on. As mentioned in prior reports, race pace is much different than what can be focused on during the week. Even harder is maintaining that while moving through the field and being forced to change lines and really focus on looking and planning ahead for every pass. Possibly easier said than done, Ivan just needs to put a few things together and he will be where he belongs. Tedesco is a veteran though and a hard worker, so the results will soon come as well.
Ivan Tedesco: "Weekend was decent, track was really tricky and it took me a while to figure it out. I was still figuring it out even in the heat race and the semi. I made it through in the semi and then in the main I got a bad start once again. I was kind of struggling with my starts all day. I kind of had to fight for it. I battled through for a 13th which is not where I wanna be, but with the bad starts and stacked field it's kinda tough. I need to work on my starts this week and gain a little bit of speed to hopefully get into the top 10."
Cole Thompson appears to be improving, but he is still a young kid racing in a 450 class teeming with a cast of wiley characters. It's a tough task to even qualify for a main event. Thompson still has only been on the bike for a very short time and just needs to stay positive, work hard during the week and learn from the multiple mentors surrounding him. He missed out on qualifying for the main event for the second week in a row.
Cole Thompson: "I made improvements throughout the week and felt more comfortable with the track this weekend. I was just outside the transfer spot in the LCQ race and felt good but just didn't make things happen quick enough. I'm going to keep working hard and building on the positives from each weekend."
Anderson is going to use the fire inside of him and aim to retrieve the red plate next week. Tedesco will work to find his way into the top ten in Oakland and similarly Thompson's goal will certainly be to put his KTM 350 into the main event.
450SX Main Event
1. Chad Reed
2. James Stewart
3. Ken Roczen
4. Justin Brayton
5. Ryan Villopoto
6. Ryan Dungey
7. Weston Peick
8. Josh Hill
9. Andrew Short
10. Jake Weimer
11. Justin Barcia
12. Wil Hahn
13. Ivan Tedesco
14. Josh Grant
15. Nick Wey
16. Matt Goerke
17. Vince Friese
18. Mike Alessi
19. Matt Moss
20. Chris Blose
21. Kyle Partridge
22. Jimmy Albertson


450SX Points
1. Ken Roczen 60pts
2. Ryan Villopoto 59pts
3. Chad Reed 57pts
4. Ryan Dungey 57pts
5. Justin Brayton 55pts
6. James Stewart 44pts
7. Justin Barcia 42pts
8. Andrew Short 38pts
9. Wil Hahn 30pts
10. Brock Tickle 26pts
11. Jake Weimer 25pts
12. Josh Grant 21pts
13. Weston Peick 20pts
14. Matt Moss 20pts
15. Ivan Tedesco 18pts
16. Josh Hill 16pts
17. Mike Alessi 16pts
18. Nick Wey 14pts
19. Matt Goerke 12pts
20. Vince Friese 11pts

250SX Main Event
1. Cole Seely
2. Cooper Webb
3. Malcolm Stewart
4. Jason Anderson
5. Justin Hill
6. Shane McElrath
7. Dean Wilson
8. Zach Osborne
9. Michael Leib
10. Jessy Nelson
11. Dean Ferris
12. Dakota Tedder
13. Cole Martinez
14. Chris Plouffe
15. Valentin Teillet
16. Chris Howell
17. Chris Proscelle
18. Conner Elliott
19. Scott Champion
20. Austin Burns
21. Aaron Siminoe
22. Joseph Dalzell

250SX Points
1. Cole Seely 69pts
2. Jason Anderson 68pts
3. Zach Osborne 53pts
4. Cooper Webb 51pts
5. Dean Wilson 50pts
6. Malcolm Stewart 47pts
7. Justin Hill 44pts
8. Jessy Nelson 35pts
9. Dean Ferris 31pts
10. Shane McElrath 29pts
11. Michael Leib 22pts
12. Darryn Durham 21pts
13. Dakota Tedder 21pts
14. Cole Martinez 20pts
15. Scott Champion 14pts
16. Chris Plouffe 13pts
17. Austin Politelli 11pts
18. Jake Canada 10pts
19. Valentin Teillet 10pts
20. Austin Burns 9pts
General News
,
Racing
All Article Tags