Quality Tools & Controls
Your motorcycle tools, cables, and controls specialist!
Account
Bowers Unbeatable with the Motion Pro Revolver Throttle Kit.
Jan 21, 2014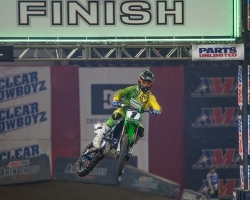 Irvine, Calif. (January 21, 2014) - Round 3 of AMA Arenacross featured one night of racing from Freedom Hall in Louisville, Ky., on Saturday with reigning champion Tyler Bowers taking the win. Team Babbitt's Monster Energy/Amsoil Kawasaki started the night by sweeping the top three positions in qualifying with rookie Colt Nichols on pole followed by Bowers and Zach Ames. Bowers did not lose a race all night as he won his heat, the bracket races, and both main events. Ames recovered from two bad starts to finish ninth overall, while Nichols fell victim to tough competition and was unable to transfer to the main events.
Creeping Back Up

After starting the season with a 1-1 result, Bowers has not seen the red plates and points lead since. He has been up front on every night of racing but misfortune has kept him from the top of the podium. On Saturday Bowers turned that around and put on a clinic. Aside from qualifying second, he went undefeated for the rest of the night. After winning the first main event, he selected a 16-man inversion for the second main event which put Bowers in the back row, outside gate. One of the few, if not the only one to successfully win from that gate, he carved his way through the field and muscled his way into the lead to take the win and sweep the night.

"I've been racing Arenacross for a long time," said Bowers. "We know all the moves and you have to be smart when coming through the pack. It's not always about who's fastest, but instead who's smartest. You have to be aggressive, but make sure the pass doesn't mess you up for the next section. Confidence played a huge factor in that second main event for me. I had won from that back row gate before and knew I could do it again."
Overcoming the Pressure

Ames has established himself as a force to be reckoned with this season and sits as the current points leader. But with the points lead comes an expectation to be upfront every time the gate drops. The first main event saw Ames get off to a great start on his KX™250F but a pileup on the first lap forced him to roll the finish and drop to the back of the pack. He was able to catch the lead pack and settled for fifth place. In the second main Ames was moving forward once again until he ran into problems and was forced to finish 13th. Ames finished ninth overall and holds the points lead by three points.

"This was the first weekend I came in and left without losing the points lead," said Ames. "There is an added pressure with the red plates, but it's one I like and I want. I plan on keeping these red plates as long as possible, especially when the Race to the Championship starts for the last six rounds. This weekend wasn't the best for us, but we salvaged what we could and will be back next weekend."
Learning Curve

Nichols has had a successful start to his rookie arenacross season but wanted to improve on his qualifying times to set him up better for the night show. In Louisville he did just that and on the last lap of qualifying threw down the fastest lap and earned the pole position for the night over his two teammates, Bowers and Ames. Nichols came into his heat race confident but did not get a very good start and was forced to go to the LCQ. Once again, Nichols found himself mid-pack on the first lap. He worked his way forward and crossed the finish line side-by-side for a transfer position but was ultimately scored as third place, ending his night.

"Tonight was frustrating," said Nichols. "I had a goal to improve my qualifying in order to set myself up better and be up front. I was able to do that and was really excited that myself, Tyler, and Zach were 1-2-3 in qualifying. The rest of the night didn't go my way, but we've shown we have what takes and just need to put all the pieces together."
Head to Head

Not only are Bowers and Ames each other's top competition, they are teammates, training partners, and roommates. It's a unique scenario where both riders want each other to succeed just as much as they want to win themselves. There is little animosity towards each other, and instead they help each other with bike set up, and line choice on the track. Their goal is to put Team Babbitt's and Kawasaki on top.

"We both know we're capable of winning races," said Bowers. "If I can't win a race, I hope that Zach wins and same with the championship. We're on a team and one night I might be feeling off and Zach is able to help me and vice versa. If anything, being each other's top competition helps us both."
Every Race Counts

As long as the series may seem, three rounds completed marks a quarter of the way through the season and halfway until the points will be reset for the Race to the Championship. Riders within the top-10 will be eligible for championship and only five points will separate the top-10. The series heads to Greensboro, N.C. next Saturday January 25, 2014.
Racing
,
General News
All Article Tags