Quality Tools & Controls
Your motorcycle tools, cables, and controls specialist!
Account
Motion Pro Swivel Head Cable Clamps For American V-Twins
Jul 30, 2007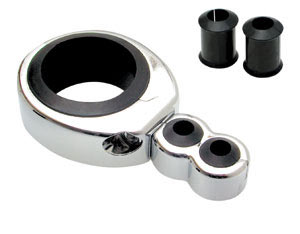 Here is a product that makes any bike look better and perform better. You already know how easily and economically Motion Pro cables make a bike look great. The new Motion Pro Swivel Head Cable Clamps are a perfect complement to our cables and add an extra custom touch to any American V-Twin bike. Best of all, not only will they tidy up the look of the bike, Motion Pro Swivel Cable Clamps provide improved cable performance by allowing control cables to arc naturally while limiting the amount of housing flex.
The Motion Pro Swivel Head Cable Clamps feature a unique hinged main clamp that captures a single or double cable clamp that swivels to allow more natural cable routing. The clamps have a polished chrome finish and come in several sizes to fit 1", 1-1/8", 1-1/4", and 1-1/2" tubes and handlebars.
With only a single screw holding the entire assembly together, the clamps are easy to install, they have a very clean look, and their highly polished chrome finish will look great on any bike.
Check out the Motion Pro Swivel Head Cable Clamps at http://www.motionpro.com/motorcycle/tools/chrome_cable_clamps/ Pick a few up for your display case. You'll see them fly out the door on Friday!
Featured Products
All Article Tags