Quality Tools & Controls
Your motorcycle tools, cables, and controls specialist!
Account
Anaheim Woes Tighten Points Chase for Jason Anderson
Feb 3, 2014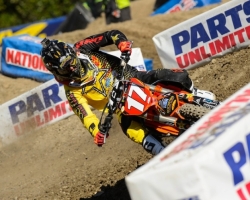 Los Angeles, CA (February 3, 2014) - Jason Anderson now shares the red plate with Cole Seely after a disappointing and eventful A3, while teammate, Ivan Tedesco, tries his luck on a 350 and continues to improve.
Aside from the 1st Anaheim in 2014, the city has not been very friendly to Rockstar Energy Racing's quest for the 250 West Championship with Jason Anderson. From the controversial cross flag penalty at A2, to the collision with Malcolm Stewart at A3, Anaheim has been a challenging location. This past race, Malcolm collided with Jason, taking both riders to the ground, after seemingly not even attempting to turn but running straight into Jason. Some may say team tactics were involved as Malcolm is the teammate of Anderson's closest competition in the points chase, Cole Seely. That is certainly a possibility, or it could just be the aggressive type of riding that is common in the fierce 250 class. Whatever the motivation, Jason Anderson faced a tough rebound to maintain his series points lead.
If it wasn't for the adverse happenings in the West thus far, perhaps Jason Anderson would have a comfortable margin ahead of 2nd place overall. He was once again fast all day in practice and his heat race. Although it was the first heat of the year that he didn't win, he did come from the back of the pack to 2nd and nearly overtook the leader. In the main event, he once again didn't get out of the gate very well and some work to do. Anderson moved himself very quickly into the lead group and the top 5. He made a clean block pass with minimal contact to move by Stewart in the turn after the tough whoops section. Malcolm didn't see it that way however and he hit JA very hard in the next turn and sent him sprawling into the neighboring lane. Aggressive riding is certainly welcome in a sport where excitement and emotions are on an extreme high. However if it wasn't obvious enough that it is was a t-bone move as is, a good rule of thumb is that if you hit somebody and you both go down, it was dirty.
Aside from Jason's blistering pace each weekend, the most impressive thing has been his maturity through the bad moments. After the A2 incident, he just went to the track Monday morning and focused on Oakland. This weekend was no different. After he collected himself, he put on a clinic moving forward through the pack. Eyes were definitely focused on him as he found himself on Stewart's rear wheel once again. Anderson blew by him cleanly into 6th place. He doesn't have a need to worry about exacting revenge, his goal is only to win the title. By race's end he made his way to into 5th, falling just short of making one more pass on Justin Hill. After the race, Jason talked with Malcolm briefly but did not overreact or get angry. Racing is racing and he is still tied for the points lead. The kid is all grown up and a very good sport.
Jason Anderson: "This weekend was alright, but tied in points now. Every time I get a cushion it seem like something just doesn't go my way. You know we're just gonna keep pushing, do what we do every weekend and come out battling next weekend."
Ivan Tedesco made a big change prior to Anaheim 3. Just before Oakland, Team Owner Bobby Hewitt asked Ivan if he'd like to try and ride the KTM 350. Ivan agreed to give it a go. After going out for 5 laps, he was immediately more comfortable. By the end of the day, Tedesco wanted nothing more than to race the 350. He was so excited about it, he asked if one could be ready for the next race. Unfortunately there wasn't enough time to prepare, so he would have to wait until A3. There was no question to anyone looking on that he was clearly better on the smaller bike. His corners more aggressive, attack position through the rhythm sections, scrubbing triples like a completely different rider. Ivan won multiple championships on 250's and is a smaller guy. It's evident that the 350 is perfect for him in the 450 class.
Some people thought it was a contract deal that took IT off the 450, but they were wrong and the immediate results proved that. It is known by all on the team that he is much better in the main event than practice and that is by no means uncommon throughout the class. When the second the gate dropped, the new Ivan emerged. Running with the lead pack, he just missed out on qualifying directly out of his heat. That is a very tough feat considering the level of competition and the fact that only 4 riders advance. He then rode stellar in his semi, putting himself into the main easily. He was stronger than he is been all season for the next 20 laps and the result showed just that. For the first time this season Tedesco found his way into the top ten. Everything is beginning to come together with the new bike, fitness and just being confident lining up at the gate. Chances are that the #9 will now be a consistent mainstay in the 5th - 10th range.
Ivan Tedesco: "Not a bad day. I sucked once again in qualifying practice, I don't know why but I haven't been able to figure it out. I qualified 20th today and finished 10th so their was definitely some progress through the night. I'm a better racer than I am in practice so hopefully I can figure it out sooner and be better throughout the day. I'm going to keep working at it and hopefully finish better than 10th next week."
Rockstar Energy Racing will now make the short trip to the final California round of the season in San Diego next weekend. Anderson will be eager to retake sole possession of the points lead where he finished on the podium one year ago. Tedesco will continue to adapt to the 350 and chop away at the gap separating him from the top ten overall. Davi Millsaps has also announced that he will begin riding February 10th and will get back to racing as soon as he can.
450SX Main Event
1. C. Reed
2. K. Roczen
3. R. Villopoto
4. J. Barcia
5. W. Peick
6. J. Brayton
7. J. Stewart
8. J. Weimer
9. A. Short
10. I. Tedesco
11. B. Tickle
12. W. Hahn
13. N. Wey
14. M. Moss
15. J. Albertson
16. V. Friese
17. J. Grant
18. M. Goerke
19. C. Blose
20. R. Dungey
21. E. Tomac
22. M. Alessi

450SX Points
1. R. Villopoto 104pts
2. C. Reed 102pts
3. K. Roczen 97pts
4. J. Brayton 86pts
5. J. Stewart 80pts
6. R. Dungey 76pts
7. J. Barcia 74pts
8. A. Short 61pts
9. W. Hahn 52pts
10. J. Weimer 50pts
11. I. Tedesco 38pts
12. W. Peick 37pts
13. B. Tickle 36pts
14. J. Grant 35pts
15. N. Wey 28pts
16. M. Moss 27pts
17. M. Alessi 25pts
18. V. Friese 23pts
19. M. Goerke 20pts
20. J. Hill 16pts

250SX Main Event
1. D. Wilson
2. C. Seely
3. C. Webb
4. J. Hill
5. J. Anderson
6. M. Stewart
7. J. Canada
8. S. McElrath
9. J. Nelson
10. D. Tedder
11. D. Ferris
12. S. Champion
13. T. Ingalls
14. P. Mull
15. V. Teillet
16. B. Scharer
17. C. Howell
18. S. Rhinehart
19. J. Marrone
20. J. Dalzell
21. B. Rangel
22. C. Elliott

250SX Points
1. J. Anderson 109pts
2. C. Seely 109pts
3. D. Wilson 97pts
4. C. Webb 85pts
5. J. Hill 82pts
6. Z. Osborne 69pts
7. M. Stewart 69pts
8. J. Nelson 61pts
9. S. McElrath 55pts
10. D. Ferris 52pts
11. D. Tedder 40pts
12. M. Leib 37pts
13. J. Canada 34pts
14. S. Champion 33pts
15. C. Martinez 24pts
16. V. Teillet 23pts
17. D. Durham 21pts
18. T. Ingalls 15pts
19. C. Plouffe 13pts
20. A. Politelli 11pts
Racing
,
General News
All Article Tags