Quality Tools & Controls
Your motorcycle tools, cables, and controls specialist!
Account
Babbitt's Kawasaki Riders Sweep Sacramento with Motion Pro Revolver Throttle Kit, Titan Throttle Tube and T3 Clutch Cables
Feb 12, 2014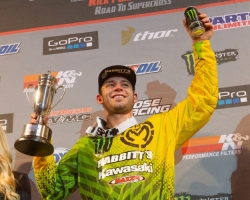 Irvine, Calif. (February 12, 2014) – The AMA Arenacross series reached the half-way mark on Saturday as Round 6 at Sleep Train Arena in Sacramento, Calif. Team Babbitt's Monster Energy/Amsoil Kawasaki's Tyler Bowers won his fourth overall of the season by dominating both main events. Current points leader Zach Ames finished on the heels of his teammate to take second in both mains and retain the points lead. Colt Nichols was consistent all night and finished ninth in both main events and holds ninth in the points standings.
Cruising

Bowers continues to improve every week following his ankle injury at Round 1, but his results show no weakness. After winning the first main event and the bracket races to earn an extra point, the reigning champ randomly selected no inversion for the second main event. He grabbed another holeshot on his KX™250F and rode to his fourth overall win of the season.

"The weekend was really smooth for a change," said Bowers. "I got great starts, rode smart and didn't have many challenges. I almost wish I chose one of the inversions because I think I would have had a better chance to make up more points of the field. We want that red plate back before the points reset in two weeks."
In Control

Ames will run the red plates for at least another week after a solid 2-2 finish in Sacramento. He and Bowers were first and second off the line every time the gate dropped, but lappers and small mistakes kept him from challenging his teammate. Ames leads the points standings by three over Bowers with two rounds remaining before they are reset for the Race to the Championship.

"I had a good weekend," said Ames. "I finished second which was a bit frustrating as I felt just a bit off from Tyler, but I still have the points lead and feel good about the season. The real racing will start when the points reset."
Wanting More

After achieving his first win and battling up front over the past few weeks, Nichols did not have the results he wanted in Sacramento. He pushed his pace to match the leaders but mistakes would leave him with a 9-9 finish. Nichols holds ninth place in the points standings and is in position to make it to the Race to the Championship.

"After getting a win, that's all you want," said Nichols. "The track was pretty tough to make up time on guys and I pretty much finished where I started. It was hard to move forward through the pack. Our goal is to make the Race to the Championship and then really go for it."
West Swing

Following five weekends on the east coast, the series hit its first west coast stop in Sacramento. The harder, slick west coast dirt was challenging for many riders which resulted in lappers playing a huge part for the leaders. AMA Arenacross heads next to Nampa, Idaho and the Idaho Center for two nights of racing starting Friday, February 14th, 2014.
Results

AMA Arenacross – Round 6
Sleep Train Arena – Sacramento, Calif.
Saturday, February 8th, 2014

Arenacross Class Overall
Tyler Bowers, Danville, Ky., Team Babbitt's Monster Energy/Amsoil Kawasaki (1-1)
Zach Ames, Prospect, Ohio, Team Babbitt's Monster Energy/Amsoil Kawasaki (2-2)
Kyle Regal, Grand Prairie, Texas, Honda (4-4)
Travis Sewell, Westville, Ind., KTM (5-5)
Willy Browning, Pleasantville, Ohio, KTM (7-6)
Daniel Blair, Lodi, Calif., KTM (6-7)
Jacob Hayes, Greensboro, N.C., Honda (3-10)
Cory Green, Nowata, Okla., Suzuki (13-3)
Colt Nichols, S. Muskogee, Okla., Team Babbitt's Monster Energy/Amsoil Kawasaki (9-9)
Nathan Skaggs, Chillicothe, Ohio, Kawasaki (8-12)

Arenacross Points Standings
Zach Ames, Prospect, Ohio, Team Babbitt's Monster Energy/Amsoil Kawasaki – 239
Tyler Bowers, Danville, Ky., Team Babbitt's Monster Energy/Amsoil Kawasaki – 236
Jacob Hayes, Greensboro, N.C., Honda – 198
Michael McDade, McDonald, Ohio, Kawasaki – 177
Willy Browning, Pleasantville, Ohio, KTM – 169
Cory Green, Nowata, Okla., Suzuki – 152
Kyle Regal, Grand Prairie, Texas, Honda – 150
Travis Sewell, Westville, Ind., KTM – 146
Colt Nichols, S. Muskogee, Okla., Team Babbitt's Monster Energy/Amsoil Kawasaki – 138
Kelly Smith, Ludington, Mich., KTM – 125
General News
,
Racing
All Article Tags