Quality Tools & Controls
Your motorcycle tools, cables, and controls specialist!
Account
JGRMX - Dallas Results
Feb 18, 2014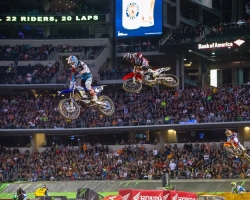 HUNTERSVILLE, N.C. (Feb. 16, 2014) – AT&T Stadium in Dallas, Tex. held round seven of the 2014 Monster Energy AMA Supercross Championship in front of 54,421 fans. Fox Sports Two broadcast the event live. Fox Sports One, which typically airs the supercross races was covering the NASCAR Sprint Unlimited event in Daytona Beach, Fla. Joe Gibbs Racing's Denny Hamlin won the race in his FedEx Toyota Camry.
The Washington Redskins/Dallas Cowboys rivalry is among the most heated in sports. AT&T Stadium is home to the Dallas Cowboys and Joe Gibbs was on hand to encourage Phillip Nicoletti and Justin Brayton. During an interview on the stadium floor the Pro Football Hall of Fame coach was quick to share with the amicable crowd that during his tenure the Cowboys and Redskins had equal records when playing one another.
Nicoletti transferred to the main event from Semi One, while Brayton won Semi Two. Brayton began the main in third position with Nicoletti 13th. On lap seven Brayton was relegated to fourth and Nicoletti was 14th. Brayton began to close on third but made a mistake that caused him to miss a rhythm section shuffling him back to sixth. With three laps to go Brayton moved into fifth, on the same lap Nicoletti was landed on taking him out of the race. Brayton finished fifth and Nicoletti was scored 22nd. In an interview after the race Brayton addressed the Fox Sports Two audience, "I'm fairly happy with tonight, the result was OK, fifth, but I think I let one get away there. I made a mistake on the finish line and jumped off the track and it cost me three positions, it's crazy how close we all are. I got to give it up to my team, JGRMX, Toyota, Yamaha, N-FAB, Factory Effex, O'Neal, Oakley, Bell Helmets, all the guys, thanks," said Brayton.
The Georgia Dome in Atlanta, Ga. will host round eight of the series on Feb. 22. Josh Grant is expected to return, and Phillip Nicoletti will join Brayton and Grant as a third rider for the team. Fox Sports Two will air the race live starting at 7:30 p.m. (EST). Timed qualifying will stream live on supercrossonline.com beginning at 2:00 p.m. (EST).
General News
,
Racing
All Article Tags