Quality Tools & Controls
Your motorcycle tools, cables, and controls specialist!
Account
Destry's Jan/Feb Race Reports!
Feb 21, 2014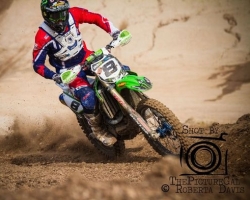 The first two months of 2014 have been really busy, so I wanted to fill you in on the last two months with race reports and much more!
Motocross Race Report
I've really been enjoying this year, because I more or less pick and choose which events I want to do these days in addition to the entire Endurocross series and X Games. However, I'm really looking forward to both the Endurocross series and X Games more than anything this year!
I've been mixing it up quite a bit and actually have been putting in a lot of MX track time along with hitting select rounds of our local MX series here in Arizona. It was awesome to get out there and mix it up with the kids! I was able to pull off wins in the stacked 250 Pro class and 450 Pro class at both an AMX race at Canyon Motocross Park in Peoria, Arizona and a CMC round at Arizona Cycle Park in Buckeye, AZ. Not too shabby for an "old guy!"
AMRA Round 6 / West Chec Round 2
The famous "Waterfall" Section at the mile markers near Wickenburg, AZ
Last weekend I went out to our local AMRA / West Chec off road event, "The Coyote Classic III" out by Wickenburg, Arizona. They had a huge turnout and it was definitely one of the best enduro/quailifiers I've done in a long time. The course was over 100 miles and seven plus hours of awesome trails. I was able to pull off the win and it was really cool to see one of my DA8 riders, Dave Broderick, pull off a second overall behind me. It was a national caliber event and hopefully we can get one of those back here in AZ again!
Mesquite Off-Road Race!
This weekend I'm heading up to Mesquite, Nevada to race the Mesquite Off-Road Race. It's going to be stacked with EX and Moto guys so it will be a good test to see where I'm at. Here's a cool video from last years event:
http://www.youtube.com/watch?v=j9UixAERK9M
http://www.mesquiteoffroad.com
DA8 Training Facility Grand Opening
Then the following weekend, I'm super excited about my March 1st Grand Opening for the DA8 Training Facility!!! This is something I've been working on for a long time and I'm excited to finally make it happen! I also just finished my Personal Training Certification, so I'm super pumped to work with up-and-coming athletes along with pro athletes to push them to the next level. I'm working on getting my Training Facility site completed, but you can head over tohttp://www.da8trainingfacility.com and sign up for our email updates and get more info on our grand opening!
Promoting DA8 and AZ Pain Centers
On the media side, I've been doing a lot of promoting with the help of AZ Pain Centers! Last week I did two segments for our local Arizona TV stations, which was a pretty awesome experience!
Dirt Rider Magazine: April 2014 issue
Last week I also received my Dirt Rider in the mail and was pumped to see the great write up they did on my KX250F race bike. Pick up your copy of the April 2014 Dirt Rider to check it out in detail.
---
View original article at
http://www.da8training.com
Racing
,
General News
All Article Tags