Quality Tools & Controls
Your motorcycle tools, cables, and controls specialist!
Account
Robert Podiums at Enduro del Verano
Feb 27, 2014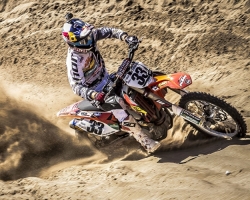 Villa Gesell, Argentina – Factory FMF/KTM rider Taylor Robert earned a podium finish in his third appearance at the Enduro del Verano in front of an estimated 100,000 spectators on the shores of Argentina.
The one-day race is approximately an hour long in length as rider's race in sandy conditions near the beach. Robert launched off the start line to a 2nd place start after the rubber band start procedure. He remained in the runner-up position for the six laps of the race to finish 2nd overall.
"This race is always an amazing experience," remarked Robert. "I'm always blown away by the amount of fans that come out and are familiar with who we are. I am thankful for the opportunity to race here and glad that I could finish on the podium for my team."
Overall Results –
Felipe Ellis
Taylor Robert
Adrien Van Beveren
General News
,
Racing
All Article Tags