Quality Tools & Controls
Your motorcycle tools, cables, and controls specialist!
Chat is Offline
Account
Motion Pro supported Tyco Suzuki readies for first test of the 2014 season
Mar 5, 2014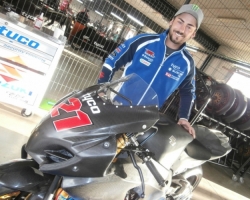 Tyco Suzuki Team News 2014
After a day of preparation, meeting new team members and enjoying a bit of Spanish sunshine, Tyco Suzuki British Superbike new recruits John Hopkins and Josh Waters are fired up and ready for the opening test of 2014 at Cartagena tomorrow morning.
The Californian and Aussie stars joined their Scottish team-mate Taylor Mackenzie trackside today for some GSX-R male bonding and all three are looking forward to some on track action tomorrow at the 2.17-mile circuit.
Hopkins said: "Yeah it's good to be here and meet my new team and I'm looking forward to my first track action tomorrow on the Tyco Suzuki."
Water's who travelled in with his new team-mates last night added: "I've tried my bike out for size today and had some fun with the guys; it's now time to get some miles in and I can't wait to get started."
Young Mackenzie who is now in his second season with Tyco Suzuki was the first rider at the Cartagena circuit at 8am this morning even though he had 24 hours to wait to get on track. At breakfast he said: "I've got butterflies already. I've been waiting all winter to get back on my GSX-R600. The season can't come quick enough for me. I've spent some time with John and Josh today and they are two good guys. It's going to be a fun year with the Tyco Suzuki guys."
More news on the opening day tomorrow…
www.tyco-suzuki.co.uk
Follow us on Twitter: @tyco_suzuki
Follow us on Facebook: www.facebook.com/tycosuzukibytas
Racing
,
General News
All Article Tags