Quality Tools & Controls
Your motorcycle tools, cables, and controls specialist!
Account
Dennis Gage with Barry Boone tonight on "Talking Motorcycles with Barry Boone"
Mar 5, 2014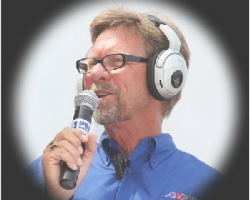 Dennis Gage - 8:00 p.m. Eastern 5 p.m. Pacific Live On
Talking Motorcycles With Barry Boone
Gage, the host of My Classic Car, Corbin's Ride On and
Trippin' on Two Wheels joins Barry tonight for the full episode
DAYTONA BEACH, FL (March 05, 2014) - Tonight we have a unique guest who is sure to entertain us as Dennis Gage joins us in the studio to share his life long love affair with vintage automobiles and his motorcycle adventures exploring the world.
Tune in at 8:00 p.m. EST, 5pm PST when
Talking Motorcycles with Barry Boone
goes live right HERE!
Dennis Gage - Musician, Mountaineer,
Dennis shares a striking resemblance to the
handlebar mustachioed character on the can.
Inventor and Host Extraordinaire
Dennis has done it all! As a young man from Illinois, Dennis majored in both chemistry and physics then took up the pedal steel guitar and started playing country-rock, opening up for acts like Charlie Daniels, Waylon Jennings and Dr. Hook. He went on to get his Ph.D in chemistry at the University of Idaho where he became an avid climber and winter mountaineer. After graduation, Dennis went to work as a product developer for Proctor and Gamble in Ohio where he played a significant role in creating Pringles - the world famous potato chip.
Dennis is well known for his seemingly boundless enthusiasm, his trademark handlebar mustache and his television shows that air on MavTV and Velocity network. He has produced numerous television programs, received several prestigious awards and toured on motorcycles throughout the world. Tonight he will share his stories that will surely make us all jealous.
General News
All Article Tags