Quality Tools & Controls
Your motorcycle tools, cables, and controls specialist!
Chat is Offline
Account
Kid Rocks: Beaubier on Provisional Daytona Pole in First AMA Pro SuperBike Race
Mar 14, 2014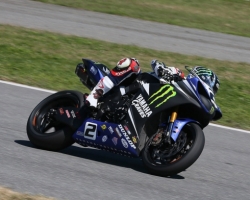 DAYTONA BEACH, Fla. (March 13, 2014) - If there was even a hint of skepticism concerning the ability of reigning AMA Pro GoPro Daytona SportBike champion Cameron Beaubier to smoothly transition to AMA Pro SuperBike competition, it was promptly erased on Thursday afternoon at Daytona International Speedway.
The highly-touted premier-class rookie not only demonstrated impressive speed in his first official day of action on the big bikes, he flat out set the pace.
Beaubier rocketed around the high banks aboard his Monster Energy/Graves/Yamaha YZF-R1 with a fast time of 1:38.079, securing the provisional pole for this weekend's season-opening SuperBike doubleheader. The 21-year-old headed the charts for much of the session and even had an answer when his all-world teammate, Josh Hayes, moved into the lead with just a few minutes remaining in Thursday's qualifying session.
Beaubier's achievement is all the more impressive when you consider that three-time AMA Pro SuperBike king Hayes has a well-established history of one-sided SuperBike practice and qualifying ownership. Should the young Californian hang on tomorrow and retain pole, it will mark the first time the Mississippian has been knocked off the top spot on the grid in over a year.
Beaubier was a dominant force in Daytona SportBike racing in 2013, winning 12 of 13 races en route to the crown. He now appears set to make an immediate impact in the premier class.
"It was good," Beaubier said in his typically understated fashion. "Toward the beginning, I just tried to go out and get a constant pace going on a new tire. I was able to do a '38.5. I came in and did just a little rear change. I got a couple more laps in and came right back in and threw a new tire on. I went out with the intention of throwing down a good lap -- which I did toward the end -- but it took me a while to get there.
"On the 600, you can put new tires on and just go and carry a bunch of roll-speed through corners and get off the corners good. But on a SuperBike it's different. Once you slide it a little bit, it starts bucking you. I'm learning every time I get on the bike. I'm sure tomorrow I'll feel a little bit more comfortable, but I'm sure those guys will be right there, too."
Hayes was second, 0.243 seconds off Beaubier's class-leading time.
Joining the Yamaha duo on the provisional front row is Yoshimura Suzuki Factory Racing's Roger Hayden with teammate Martin Cardenas just one spot further down in fourth. The two are widely considered the biggest obstacles standing in the way of a fifth-consecutive Monster Energy/Graves/Yamaha SuperBike title, and they delivered on that promise today.
New Yosh runner Hayden stopped the clocks at 1:38.827, which was 0.748 seconds behind provisional pole. It was a promising opening day's work for the Kentuckian, who is aiming to get his title campaign off to a quick start this weekend.
Colombian Cardenas, who won here last season, was a further six tenths back.
ADR Motorsports/Sic/Motul Fly Racing's David Anthony was also in outstanding form. The privateer broke into the top five, leading a number of big names. The Australian posted a 1:40.148 to complete the day in fifth.
Chris Clark helped the Yoshimura Suzuki Factory Racing squad lock up a full half of the six slots available on the provisional front two rows with his sixth-place performance.
KTM/HMC Racing's Chris Fillmore heads Row 3 overnight. He's followed by Spaniard Bernat Martinez aboard the Proto-Tech Spain Yamaha R1 and M4 Motorcycle Road Racing Honda's Chris Ulrich.
Team AMSOIL Hero's Cory West completed the day's top ten.
The grid for the weekend's twin 15-lap SuperBike contests will be set following Friday morning's second session. The season's opening SuperBike race will follow later that day with a scheduled 4:00 p.m. EST start time.
2015 DAYTONA 200
While the 2014 AMA Pro Road Racing season only kicked off with its opening practice and qualifying sessions today, a bit of time was taken to look ahead to next year, when the AMA Pro SuperBikes will return to headline the DAYTONA 200. A number of key individuals, ranging from AMA Pro officials, team managers, and leading riders took to the stage on Thursday morning to reflect on the exciting opportunity.
Daytona International Speedway President Joie Chitwood III said, "If you think about our history, motorcycles really helped us get to where we are today. And if you look at what we do today, certainly, motorcycle racing is an important part of what Daytona International Speedway stands for. For us, the opportunity to talk about switching up the format for the 200 and bringing the big bikes back is exciting for us. We think it's a great thing for our fans and our partners. We don't want to rest on our laurels -- we always want to think about what we can do to improve the racing on track and what we can do for our fans."
AMA Pro Racing Chief Operating Officer Michael Gentry remarked, "Bringing the big bikes back is something our fans have been telling us they would like to see. And we just feel like from a series perspective, it's going to solidify our sport and send a very positive message out to all of our fans and primary stakeholders about our commitment and being here at Daytona."
Keith McCarty, Yamaha USA's Motorsports Racing Division Manager, added, "I think there's no argument that the DAYTONA 200 is the most prestigious race in the United States for roadracing and it's really fitting that SuperBike -- the most prestigious class for motorcycle racing here -- is a part of that. Yamaha is no stranger to the DAYTONA 200. We applaud everybody who has worked to make this happen."
General News
,
Racing
All Article Tags