Quality Tools & Controls
Your motorcycle tools, cables, and controls specialist!
Account
JGRMX - Detroit Results
Mar 17, 2014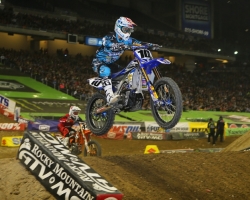 HUNTERSVILLE, N.C. (March 16, 2014) – From 1976 through 2005 the Detroit round of Monster Energy AMA Supercross was held in the Pontiac Silverdome. From 2006 through 2008 Ford Field in downtown Detroit was host to the series. This was the first time back to the Motor City since then. Traditionally races held in the Silverdome had a section of track that ran up into the stands. Feld Entertainment brought the custom back to the delight of the 50,856 fans who were there to watch the return of the series. The race was broadcast by Fox Sports One.
Justin Brayton transferred to the main event from semi one, Josh Grant from semi two. At the start of the main Brayton was 14th and Grant ninth. During the early laps Brayton advanced to 12th with Grant 10th. By lap 13 Brayton moved into 10th, and ultimately ninth at the checkers. Grant was 10th. Brayton has not finished outside of the top – 10 thus far in the series and sits fifth in championship points.
Rogers Centre in Toronto, ON will host the only international round of the series on March 22. Fox Sports One will broadcast the action live starting at 7:30 p.m. (EST). Timed qualifying will stream live on supercrossonline.com beginning at 2:00 p.m. (EST).
General News
,
Racing
All Article Tags