Quality Tools & Controls
Your motorcycle tools, cables, and controls specialist!
Chat is Offline
Account
RoadRace Factory - Daytona 200 Weekend Recap
Mar 18, 2014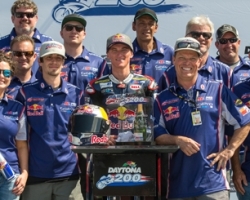 Daytona International Speedway, the World's Center of Speed is the traditional host of the AMA Pro Road Race season opener. This year, the team entered the gates with a new look and a new attitude. Tomas Puerta joins Jake Gagne on the Daytona SportBikes while the addition of Cameron Gish and Felipe Maclean lends a fresh approach in the SuperSport class. The attitude is reflective of the team's assertive nature and more in tune with the attitudes of the crew. In the past, it was "Let's just do our best and survive this race and prepare for the rest of the season." Not any more, "Win it all!" That's the new mantra.
GoPro Daytona SportBike

Gagne lands on the podium, Puerta shines in debut
Let's just jump right into the Daytona 200! The boys were solid and fast all through out practice and qualifying and things were fairly routine for everyone. Except a minor tip over, Jake was consistently fast and Tomas was dropping times every lap. Final qualifying and the grid was set for the 200. Jake would be starting from the 6th position and Tomas would be in 8th. Both riders poised to run up-front all race long.
Green flag and the grid launches like a sprint race! The leading pack consisted of about 7 riders with Jake on the tail end of that group. Typical first few laps are tricky and he didn't want to get caught up in the mess that can happen so quickly at Daytona. Tomas got shoved back into the second group and was outside the top ten for the first few laps. However, he put his head down and as he knows his way around the circuit, he dropped the hammer and quickly caught up to the lead pack using the double draft.
Just before the first scheduled pit stops, Tomas pulled into the lead and crossed the line in P1. In his first DSB ride of his rookie season, Tomas lead the Daytona 200 and the best 600cc riders in the country. Jake never went outside that first group and continued to dice it up in the top 5 as Tomas was leading. Fate is cruel mistress, and just as soon as Tomas hit the front, he was struck with a mechanical failure that left him stranded just inside the first banking.
As he was able to get the bike on the truck and return to the pits as Jake went about the business of staying in the lead group. The racing was tight and at no point could he rest because Westby, DiSalvo, and Eslick applied continuous pressure. The first pit stop was a real piece of teamwork. Within mere seconds, Jake was back out on the track and still running in the top three, only a few seconds off the leader (Westby) who had yet to pit. Meanwhile the crew immediately turned to Tomas' bike and got it back up and running.
Tomas would circulate for only a handful of laps before coming back in to retire. Not what he had expected to do in his first Daytona 200. Meanwhile, back on the track, Jake stayed on the heels of the leaders and was right there in the mix when Dane Westby and Jason DiSalvo crashed entering turn one. That crash left Danny Eslick and Jake Gagne to fight it out amongst themselves. It would come down to the final pit stops and the team was ready!
"Rider In!" was the call as Jake turned down pit lane for the final pit stop. Rev limiter screaming and air guns ready, Jake pulls into the pit stall and the team worked so fast, Jake wasn't able to even get a splash of water. He was soon jumping back onto the bike and flying out of the pits. The team confident that they had just given him the best chance to win the 200. The gap between Jake and Danny was a little over 8 seconds and Danny still needed to pit. It was almost a dead heat when Eslick left his pit stall. Jake was in sight of Danny until the second out-lap when Jake overshot the entry of the International Horseshoe and had to use the old turn. From that point on, Jake just worked on closing the gap and not making mistakes. He continued to run Eslick down but as the checker flag was put out, Jake would have to take P2 and the team's best finish ever in the most prestigious event on the calendar.
Jake Gagne - 2nd in Daytona 200

"The beginning of the race was kind of a mess out there, there was a giant pack of guys, we knew there would be. My goal was to just do my own thing and stay out of trouble really. Then it just started dwindling down to just a few guys. After the second pit stop, to kind of settled down and I was struggling in the infield sections to just hang on for all those laps. I don't think the Daytona 200 is an endurance race anymore; it's a 57 lap sprint! The pit stops were awesome and Scotty and Danny built me a real fast bike. I kinda went off in the first part of the International Horseshoe and had to use the old horseshoe. That's where I lost the chance to catch Danny and just worked to bring it home. Thanks to everyone one the team for their effort and support."
Tomas Puerta - DNF Daytona 200

"My first 200, it wasn't really 200. It was more like 17 - 18 laps. It was crazy! I was really excited to be out riding with the DSB guys for first time this year. I got an okay start, was running up ok, I made a little mistake and ended up like 12th on first lap. After that I tried to be a little smart. Hard for me because it's a long race but I want to be up front. I was excited to be up there and running with the leaders. It was the fastest I have ever gone at Daytona, it was incredible to lead them for a lap. My bike was on rails, it was working great and I knew I had to start making moves. But as soon as I take the lead and head into the horseshoe, I downshifted to 2nd and my bike went right away to 3rd. I thought it was my mistake but when I got onto the first banking, I tried to pass Gagne on the inside and again I downshifted to 2nd and the bike went to 3rd. I almost took him out. It happened a couple of more time and I thought that the transmission wasn't working good. I didn't want to pull into the pits because I knew no-one would be waiting for me and I would mess it all up. Next thing I know, I'm getting on the banking and my chain broke, my rear tire got locked. I stopped and tried to put it back on the sprocket but I couldn't. I started pushing my bike to get back to the pits, but it took me almost two full laps to get me on the truck. I knew my race was over. We got it to the pits and the team did a great job to get it back together and send me back out.
But the transmission wasn't working right and I didn't see any good points to keep riding and maybe crashing. So I just came in and that was it. Not what I wanted to do with my first 200 but that's how it went. My guys put a really fast bike under me and my confidence was really high with this bike. I am now looking forward to Road America because I know I can run up front and I'm feeling really good and excited to be in DSB.."
AMA Pro SuperSport
Two fresh riders to the AMA Pro Road Racing Super Sport series, Cameron Gish and Felipe MacLean were excited to begin their careers at the World Center of Speed. Their bike still had the fresh paint smell on them. During activities on Wednesday, Cameron was all about set-up. He and his crew spent most of the time tweaking clip-ons, rearsets, and suspension. When they weren't wrenching, they were cleaning and applying decals. Love was in the air!
First day on track would be Thursday and both of them were full of excitement and anticipation. Felipe having ridden the bike twice previously was already somewhat familiar with it and has extensive experience riding at Daytona. This would Cameron's maiden voyage at the high-banked track. As the first session began, both riders attacked it head on. Sadly, it was over almost as soon as it started for Cameron. After a few short laps, he crashed exiting turn one. The crash itself wasn't too bad, but when he hit the transition from asphalt to grass his heels dug into the grass and torqued his right leg. He tried to get up but could not, a quadruple break of the Tib-Fib would be the end of his Daytona weekend.
Felipe continued to make progress and move steadily up the time charts. When qualifying was over he had placed his bike in the top 20. More importantly, every lap he turned was quicker than the last and heading into the first race, he was confident he would improve steadily. He was correct, once the first race settled down; he found himself inside the top 15 and crossed the line in 15th. For the second race, the track temps would be a little cooler as it was a morning race but his confidence was higher. Perhaps a little too high, as the green flag dropped Felipe had jumped and received a 10 second penalty. He rode a brilliant race and fought hard for the entire race. With the penalty, he ended up in P21, obviously disappointed but still happy with the race and how his bike felt.
Felipe Maclean
"Overall it was a good weekend, it has been a while since I rode the R6 and I had to adapt quick to the bike because basically we had only one practice before Q1. I am happy being top 10 and top 12 in the morning practices and top 15 on Race 1. I was hoping for a top 12 finish in Race 2 but a mistake in the first lap cost me many positions in I could not recover from that.
To be honest Daytona is not the best track for me, I really think that in regular road courses we should be able to fight for a top 10. Hopefully I can have a little more seat time on the R6 between now and Road America.
I would like to thank the team for all their efforts, they really worked hard this weekend and I love being part of such an amazing group of people!"
Cameron Gish
"This isn't the way I wanted to start the season. However I have a great team behind me and really this just puts a small speed bump in our goals for the year. I'm doing everything I can to recover and I'll be back on the bike soon."
The Final Word - Danny Walker
"Wow... I mean we had the total Daytona Experience. Gagne and Tomas were just railing all weekend and we knew we could be winning this thing. In fact I told my guys, 'We're all in this time! Win it!' And I'll be darned, they put themselves right there in qualifying and we were pumped. Tomas lead a lap and we were blown away by his speed and then it just went kinda sideways for him. It's just one of those freak things that happens here.

Jake, that kid was flying all race long. He and the crew nailed there stops and he was just racing like a mad man. Super proud of what he did and the team. I mean to come here and leave with a 2nd place is pretty awesome. I know we wanted to win it but we accomplished everything else we set out to do and now we're on for the points race in the championship.

To add to the Daytona experience, we saw Felipe improve lap after lap and that's something we look for in our riders. Constantly learning and improving. He brought it him in 15th and could've been closer to top ten without the penalty on Sunday. He's got a great attitude and we're looking forward to his progression this season.

What happened to Gish is something you can't predict. It's a total bummer and I know he's a tough kid and he'll recover quickly. They inserted a rod into his leg already so the recovery process is in full effect and we expect him back soon. We're going to continue to work with him throughout his recovery and ensure that when he returns, he's 100%."
Racing
,
General News
All Article Tags