Quality Tools & Controls
Your motorcycle tools, cables, and controls specialist!
Chat is Offline
Account
NEW PARTNERS JOIN FORCES WITH TYCO SUZUKI FOR 2014 CAMPAIGN
Mar 20, 2014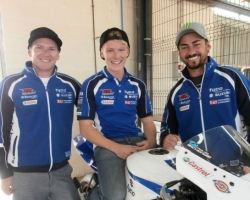 Tyco Suzuki Team News 2014
Northern Ireland based TAS Racing is pleased to be entering its third season with Tyco Security Products as headline sponsor in the British Superbike Championship and International Road Racing arenas, with the team being known as simply – Tyco Suzuki.
The brand and team livery have become very popular with local, national and international fans both in BSB and on the Roads. The team livery is instantly recognisable trackside, both on television and in printed and web based media formats.
For 2014 we are delighted to also be welcoming a number of new associate partners on-board, who will assist with our aspirations both technically and financially in British Superbike and also 'between the hedges' on the International Road Racing scene.
General News
,
Racing
All Article Tags