Quality Tools & Controls
Your motorcycle tools, cables, and controls specialist!
Account
News
Motion Pro Magnetic Finger Glove
posted Jul 30, 2007
Tags:
Product Press Releases
All Article Tags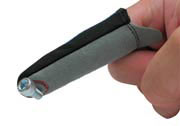 Have you ever been working on your bike, trying to get that last nut or bolt into some impossible-to-reach place, and heard that sickening sound of the fastener ricocheting down into some deep recess of your bike? Not only do you have to find that darn bolt, but once found, you have to do it all over again. If you work on your bike, this is something you dread. The Motion Pro Magnetic Finger Glove is the answer to this annoying problem. Featuring a super strong magnet sewn into the tip of a high quality leather and spandex finger glove, the Motion Pro Magnetic Finger Glove will securely hold any ferrous fastener, and allow you to guide it into place easily. Also, the leather tip will protect your finger from hot surfaces. MP# 21-0016.
Available through powersports dealers at a suggested retail price of $10.90, it's a must have item for any toolbox. For more information about all the Motion Pro products and applications, look us up on the web at http://www.motionpro.com