Quality Tools & Controls
Your motorcycle tools, cables, and controls specialist!
Account
Talking Motorcycles - Barry Boone - March 26, 2014
Mar 26, 2014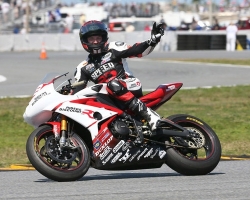 It's an all Daytona 200 program tonight with
Danny Eslick, Ricky Orlando and John Ashmead
DAYTONA BEACH, FL (March 26, 2014) - It's been two weeks since the 73rd running of the Daytona 200, but tonight we will revisit the event with overall winner Danny Eslick and two legends of the race, Ricky Orlando and John Ashmead, who together have over 8,300 career miles racing the Daytona International Speedway track.
Eslick doing the heavy lifting.
Tune in at 8:00 p.m. EST when
Talking Motorcycles with Barry Boone
goes live right HERE
Danny Eslick
History will reflect the 2014 running of the 73rd Daytona 200 was one for the record books. For the last decade, middleweight Sportbikes were the weapon of choice and Danny Eslick rode a Triumph Daytona 675R into the record books. It was 1967 when Triumph last visited Gatorade Victory Lane with Gary Nixon twisting the throttle. Eslick did it from the Rolex pole position and earned his second Rolex Daytona watch of his career. Eslick joins us LIVE to discuss his dominate performance that put him on the "bus" and in Gatorade Victory Lane in 2014!
Ricky Orlando and John Ashmead
Both of these veteran campaigners are in a historic race within the race at the 200. Orlando leads the "most career miles in the 200" contest over Ashmead. Orlando now has 4230 miles in the 200 to Ashmead's 4145 miles. Whoever wins this slugfest will likely hold the all time mileage record in the 200 for many years, and perhaps forever, as no active riders are even close. Both of these warriors will join us to discuss this amazing contest.
The Daytona 200 Wrap Up Show on
Talking Motorcycles With Barry Boone
Brings you the winner and legends.
Make sure to tune in!
General News
,
Racing
All Article Tags