Quality Tools & Controls
Your motorcycle tools, cables, and controls specialist!
Account
News
Motion Pro Synthetic Cable Lube and Cable Luber
posted Jul 30, 2007
Tags:
Product Press Releases
All Article Tags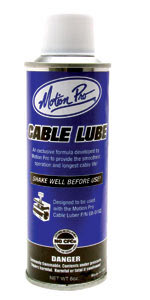 There are many maintenance tasks required to keep motorcycles and ATVs operating at their best. Changing the oil and checking tire pressure are the most common maintenance projects that everybody thinks of, but a commonly neglected task is properly maintaining the control cables.
Control cables provide the essential connection between your bike's hand controls and the carburetor, clutch, and on some machines even the brakes. When the control cables are well maintained they provide precise control. However, when the control cables get dry or dirty they can't work smoothly and riding becomes difficult, and possibly dangerous. Regularly cleaning and lubricating your cables will ensure optimum performance, and longer cable life.
Without the right tools, lubricating cables can be a real hassle. The Motion Pro Cable Luber (part # 08-0182) makes this job easy. It is a simple tool that clamps around the end of any cable housing and has a small access hole where you can connect the spray tube from a can of cable lube and inject the lubricant inside the housing. The inner sealing surface of the Motion Pro Cable Luber is stepped to fit virtually any size cable housing, and the thumbscrew clamp seals it securely.
A perfect complement to the Motion Pro Cable Luber is Motion Pro Synthetic Cable Lube (part # 15-0001). We tested a lot of other cable lubes on the market and found that they got thick and sludgy in cold weather, got too thin in hot weather, and quickly deteriorated under heavy use. We formulated the Motion Pro cable lube to avoid all these problems. The Motion Pro Cable Lube uses a special combination of Redline® synthetic lubricant and rust inhibitors to provide the smoothest operation, greatest corrosion protection, and longest cable life. Designed specifically to work in the unique operating environment inside a cable, Motion Pro Cable Lube provides a very low coefficient of friction, excellent corrosion protection, and continues to protect your cables in the hottest and coldest weather. Motion Pro Cable Lube is not the cheapest, but it's designed to be the best.