Quality Tools & Controls
Your motorcycle tools, cables, and controls specialist!
Chat is Offline
Account
Ramirez Wins Jericho Hare & Hound
May 5, 2014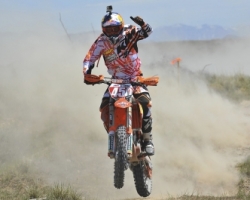 Jericho, UT – Factory FMF/KTM rider Ivan Ramirez took his second win of the 2014 AMA National Hare & Hound season at the sixth round of the series held at the Little Sahara OHV Park.
Ramirez had a great jump off the line and came out at the end of the long bomb run with a 7 second lead over the rest of the pack. He continued to pull away out front and had over a minute and a half lead as the riders hit the 38 mile marker.
Throughout the 100 mile race, Ramirez pit for fuel three times and had a mistake-free ride. He crossed the finish line to take the victory with a nearly five minute lead over the 2nd place ride of Ricky Brabec.
"I am really excited to finish with a win," stated Ramirez. "I have had a few disappointing results at the last few rounds and I am happy to get another win and gain some valuable points in the championship standings."
Next Event: May 17, 2014 – Caliente, NV
Overall Results –
Ivan Ramirez – KTM
Ricky Brabec
Nick Burson
TJ Hannifin
Joshua Knight – KTM
Brandon Prieto – KTM
Ryan Smith
Carson Giles
Jared Schlapia
Irving Powers
Overall Point Standings –
Nick Burson – 144
Ricky Brabec – 138
Ivan Ramirez – 125
Racing
,
General News
All Article Tags