Quality Tools & Controls
Your motorcycle tools, cables, and controls specialist!
Account
Destry Abbott's Las Vegas Endurocross Race Report
May 6, 2014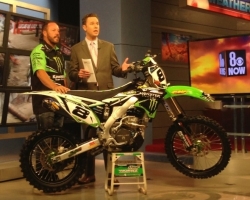 The first round of the Endurocross series was finally here and I know we were all excited to finally start racing again! It's the same weekend as the final SX race here in Vegas so it makes it even that much cooler, since we get a lot of new spectators checking it out!
We raced on Friday because the SX was Saturday night. I had a really busy day on Friday and had to be up at 4:00am to go to a local TV station to do some interviews to help promote the Endurocross race. I also do all their radio and promotional interviews for the series as well, which I actually really enjoy!
Once I was done with the TV and radio spots it was off to do the track walk! I had a lot of my DA8 riders (10+ racers) trying to qualify for the night show and wanted to walk the track with them to see what I could help with.
A lot of them qualified into the Amateur main, Expert, Vet, or Women's night show. I'm a little biased, but I was so excited and proud to see Cooper qualify for the Amateur main and also make his first night show to race with us in the pro class!
After all the day qualifiers it was time to get ready for our practice at 2:00! We get two 5-minute sessions and then it was time for our hot laps to determine our heats and gate picks for the night show would be in the 3rd heat with the second gate pick.
For opening ceremonies I figured I would bring my KX500 out for my introduction. I've been having a lot of fun playing around on it and even posting some pretty cool videos on Instagram and my Facebook Fan page. No ,way would I want to race it in the EX race though ;)
Cooper and I were in different heats, so we were taking turns as each others mechanic and both of us were running back and forth between heats. He had a blast, but since this was his first night show I knew he was going to be a little nervous. It was still a great experience for him and it will just make him better for the next time!
I was the third heat and they took the top three spots to the main. As always it seems like every heat is stacked so I knew I needed a start! Luckily I was able to pull the holeshot and lead the first lap, but I had Coltan Haaker and Gary Sutherlin all over me. There were a couple times they would just be making the pass and then either crash or make a mistake. It was a 6-lap race and I was still leading every lap and then just had one corner left where there was this really nasty rock section! I had to stop since there were guys everywhere and I didn't want to just pin it into them. I knew we had a pretty good lead over 4th and my first concern was to just get into the main! Coltan went for it, but was stuck too and then Gary came up next to me and decided to go. I was starting to think I was making a mistake and went for it. I got stuck too, but was still able to get going to pull off the 3rd and a spot in the main!
Endurocross Main Event!!!
For the start I had an outside gate, but was getting good jumps and my plan was to just drive in and try to go outside them. The only problem with this is Taylor Robert was planning the same thing. I was next to him, but got pushed wide and had to shut off. I ended up following him over the first tire, but he tangled with another rider and went down on the backside of the tire and I drilled his bike and went over the bars. I was able to get going, but now I was in last. The next two laps I made it up to 10th and then things just started going bad for me! I had two crashes in one lap and once that happened it just started to snowball. My heart rate was so high from picking up the bike I would make another mistake not to much further on. I did everything I could to just keep going and try to stay out of the way of the leaders! Its actually a horrible feeling when you can't do anything right, but just have to keep plugging away! The checkered flag couldn't come out soon enough! Really bummed on how the main went, however I know it's just one race and I wasn't going to give up!!!
Other Random Notes:
It was actually an awesome weekend with so many of my DA8 riders here and then having Cooper make the night show just topped it off. The main didn't go well and not to make any excuses up but it was tough being up at 4am and going wide open all day then trying to focus on the race during the evening! Still wouldn't change it since I'm still able to get to the races and I still love being at them.
I have a few weeks off then it's off to Austin, Texas for X Games! Always love being part of that and definitely the one race in the year that I would love to be on the podium ;)
Remember if you're ever in the Phoenix, Arizona area come stop by my gymwww.da8trainingfacility.com and try out a class for free. There's three of us certified trainers there and we always enjoy working with new people. Or you can just sign up for one of my riding schools www.da8training.com
Thanks to Drew Ruiz and Travis Fant for the photos!
General News
,
Racing
All Article Tags