Quality Tools & Controls
Your motorcycle tools, cables, and controls specialist!
Account
RPM Racing Team Las Vegas EnduroCross Report
May 7, 2014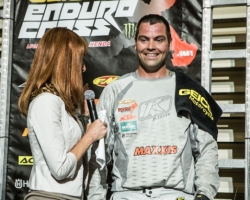 Bobby Prochnau won the LCQ and went on to finish 4th place in the main event at the Las Vegas Endurocross.
Prochnau who has been working all winter as a logger and training in the snowy mountains in Canada felt right at home in the difficult logs and rocks at the EnduroCross event.
"I knew I was passing some pretty good riders and working my way to the front," stated Prochnau. "It feels good to run up front again. I can't wait until X Games in Texas."
Prochnau is also fresh off a 2nd place finish from the Desert 100 in Odessa, Washington.
Chantelle Bykerk, last years Women's Champion got off to a rough start for the year. She injured her thumb in a practice crash a couple weeks ago and had a hard time getting the bike over all the obstacles in Vegas. Bykerk still managed a respectable 6th. place finish.
"I was happy to get a decent finish," said Bykerk. My thumb should be fine in a few more weeks. I will be ready for X Games for sure."
Rachel Gutish showed up for the 1st round of EnduroCross ready to race. She has been to all the GNCC's. All the National Enduro rounds and somehow getting all her school work done during the week.
Rachel finished 4th.
"I love EnduroCross," stated Gutish. "I am going back home to keep practicing. I hope to get a podium soon."
General News
,
Racing
All Article Tags