Quality Tools & Controls
Your motorcycle tools, cables, and controls specialist!
Account
Motion Pro Riders Mullins and Russell Head to Round 6 with Top Two spots in the Standings
May 8, 2014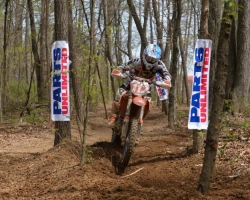 Mullins Leads the Way into Round 6 of the 2014 AMSOIL Grand National Cross Country Series
Grant Baylor Reclaims the Lead in XC2 Pro Lites Class
MORGANTOWN, W. Va. (May 8, 2014) - The 2014 AMSOIL Grand National Cross Country Series presented by Maxxis, an AMA National Championship, makes its return to the Loretta Lynn Ranch in Hurricane Mills, Tennessee this weekend, May 10 and 11, with the 33rd running of the Parts Unlimited Loretta Lynn's GNCC.
As the oldest running GNCC on the circuit, this legendary venue has played host to some of the most exciting battles in the history of the series. Moreover, the varied terrain lends itself to a fast-paced course with loose rock and technical sections, serving up a little something for every type of rider. The last time the series made an appearance at Loretta Lynn's was in 2012, where 2009 GNCC National Champion Paul Whibley secured the win en route to his second career title that same year.
As for this season, it's been an all-out points battle between XC1 Pro championship contenders Charlie Mullins and Kailub Russell through the first five rounds. Mullins, the 2011 GNCC National Champion, is coming off a big win at the last round, where he defeated Russell's previous three-race win streak to reclaim the points lead heading into the sixth round. With two victories behind him this season, Mullins-a two-time Loretta Lynn's GNCC overall winner-will go head-to-head with his biggest challenger, and Factory FMF/KTM teammate, Kailub Russell this Sunday to determine who will hold the upper-hand as the 2014 National Championship chase nears the halfway point.
Unlike Mullins and Whibley, Russell has yet to secure an overall win at the Loretta Lynn's Ranch. Russell heads into the sixth round with a heartbreaking finish on his mind from the previous round, where he experienced a big crash while in the lead. Russell was able to salvage a third place finish but it wasn't enough to maintain the points lead he previously held over his teammate Mullins. The reigning champ will look to secure his first win at The Ranch in hopes to reclaim the points lead that slipped away at the last round.
Raines Riding University/Atlas Cycles' Ricky Russell took over the points lead in the XC2 Pro Lites class after capturing his first career victory at the last round. Russell's lead is a slim two-point margin over Baylor, while rookie Trevor Bollinger holds the third place spot in the class.
The WXC class continues to provide excellent racing action, with Factory FMF/KTM's Kacy Martinez on top of the point standings after five rounds. N-Fab AmPro Yamaha's Becca Sheets maintains a solid second place position, just ahead of Ohio's Mandi Mastin in third.
Youth bike racing will take place Sunday at 8 a.m., followed by amateurs and Women at 10 a.m., while the top amateurs and pros race at 1 p.m. Local racers are invited to compete at this event, as GNCC Racing offers classes for riders of all skill and experience levels. The amateur racer entry fee is $40 and riders can sign up at the track.
Adult (12+) gate admission is $20 for the full weekend and $10 for kids (6-11). Kids five and under are free. All admission includes pro pit access.
Tune into RacerTV.com on Saturday at 2 p.m. EST / 1 p.m. CST to catch LIVE coverage of the Pro Bike race at Round 6. For more information on GNCC Live coverage, visit www.racertv.com.
The 2014 AMSOIL Grand National Cross Country Series resumes this weekend, May 10 and 11, with the Parts Unlimited Loretta Lynn's GNCC. For more information on the series, visit www.gnccracing.com.
Stay up-to-date with exclusive content from the AMSOIL GNCC Series by following the series Facebook, Twitter and Instagram.
Previous Round Results:
Dunlop Limestone 100 GNCC
Springville, Ind.
Round 5 of 13
Sunday, April 27
XC1 Event Results:
Charlie Mullins (KTM)
Thad DuVall (HON)
Kailub Russell (KTM)
Paul Whibley (YAM)
Steward Baylor (KTM)
Takeshi Koikeda (HON)
Jordan Ashburn (YAM)
Josh Strang (YAM)
Chris Bach (HON)
Jason Thomas (KTM)
*Overall National Championship Standings:
Charlie Mullins (125)
Kailub Russell (118)
Josh Strang (90)
Jordan Ashburn (77)
Paul Whibley (75)
Steward Baylor (71)
Grant Baylor (67)
Ricky Russell (62)
Thad DuVall (61)
Andrew Delong (55)
*Indicates that the Overall National Championship Standings will determine the 2014 National Champion.
XC2 Event Results:
Ricky Russell (YAM)
Grant Baylor (KTM)
Jesse Groemm (KTM)
Layne Michael (HON)
Jedediah Haines (YAM)
Trevor Bollinger (HON)
Callan May (YAM)
Shane Hufford Jr (KTM)
Derrik Allen (KAW)
Sam Evans (YAM)
XC2 Series Standings:
Ricky Russell (123)
Grant Baylor (121)
Trevor Bollinger (105)
Shane Hufford Jr (78)
Callan May (70)
Layne Michael (69)
Rory Mead (56)
Sam Evans (56)
Jesse Groemm (52)
Chris Douglas (45)
General News
,
Racing
All Article Tags