Quality Tools & Controls
Your motorcycle tools, cables, and controls specialist!
Account
TYCO SUZUKI GEAR UP FOR NORTH WEST 200 WITH DUNLOP & MARTIN
May 13, 2014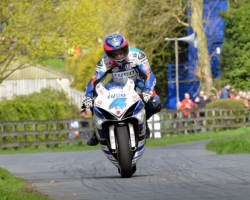 nternational North West 200 – Preview
The International Road Racing season will get underway for Tyco Suzuki tomorrow morning, with the opening practice sessions for the International North West 200 in Northern Ireland.
Team riders William Dunlop and Guy Martin will be gunning for podium action during Thursday and Saturday's race action at the famous 8.9-mile public road circuit on the picturesque north coast.
Both men have prepared well for the event: William took in the Cookstown 100 and Tandragee 100 Irish national events – where he took the Supersport victory aboard his Tyco Suzuki GSX-R600. Guy raced in France at the famous B'ol d'Or 24-hour and on the build up to the season, the Lincolshire man joined William in Spain for official testing with team tyre supplier Metzeler.
Dunlop also joined his BSB counterparts at Cartagena during the March Pro-Test and is fired up for his first North West 200 in Tyco Suzuki livery.
Dunlop said: "I've had a really good testing plan with the team and they have worked hard to give me the bike set-up and confidence any rider needs coming into a new team. I really enjoy riding the GSX-R Suzukis. I fell in love with the Superbike pretty much straight away and we have since built up a great set-up on the wee 600, which I really enjoy riding. My season is geared around the international road races and I'd love nothing more than to win a race this week with Tyco Suzuki. It certainly won't be for the lack of effort on my part or the team's."
Guy Martin added: "Everyone knows my main goal in a racing season involves the TT in June, but I've had plenty of podiums at the North West over the years and the goal is to bang in a few more this week. I always enjoy coming to Northern Ireland to race and along with the Tyco boys I'm sure we will have a good week."
Team Manager Philip Neill concluded: "The North West 200 is the start of a busy month for us in road racing terms, and it's always a great way to showpiece the Tyco Suzuki team in front of our home fans. It's an event that we've enjoyed success at over the years and I personally have some great memories.
"This week with William and Guy we will be looking to add to those. The build up with both riders has been very positive and I have to say, they are up for the job this week, as is the whole team. I won't go making any predictions, but we are here to do a good job for Tyco, Suzuki and all our other associate sponsors.
"We have two riders who are proud performers and will want to be up there challenging in all classes. We know our GSX-R machinery is well prepared and as competitive as anything on the grid. The rest we will know on Thursday night after the Supersport and Superstock races and at 6pm on Race Day Saturday."
Tuesday May 13 Practice Schedule
Practice – Roads Close 09.15hrs to 14.45hrs
(Times are approximate)
1st Session Newcomers only 09.45 to 10.15 hrs
2nd Session Supersport 10.30 to 11.15 hrs
3rd Session Superbike 11.30 to 12.15 hrs
4th Session Supertwin 12.30 to 13.15 hrs
5th Session Superstock 13.30 to 14.15 hrs
Thursday May 15 Practice Schedule
Practice – Roads Close 09.15hrs to 14.45hrs
(Times are approximate)
1st Session Supertwin 10.00 to 10.50hrs
2nd Session Superstock 11.05 to 11.55hrs
3rd Session Supersport 12.10 to 13.00hrs
4th Session Superbike 13.15 to 14.15hrs

Thursday May 15 Race Schedule
Racing – Roads Close 17.15 to 21.00 hrs
(Times are approx)
Race 1 Supersport (6 laps) 18.00hrs
Race 2 Supertwin (4 laps) 19.00hrs
Race 3 Superstock (6 laps) 20.00hrs
Saturday May 17 Race Schedule
Roads close 09.30hrs
RACE 1 Supersport Race (6 laps) 10.30 am
RACE 2 Superbike Race (7 laps)
RACE 3 Supertwin Race (4 laps)
RACE 4 Superstock Race (6 laps)
RACE 5 NW200 Superbike Race (7 laps)
Follow us on Twitter: @tyco_suzuki
Follow us on Facebook: www.facebook.com/tycosuzukibytas
General News
,
Racing
All Article Tags