Quality Tools & Controls
Your motorcycle tools, cables, and controls specialist!
Chat is Offline
Account
WILLIAM DUNLOP ON PROVISIONAL POLE AT NORTH WEST 200
May 13, 2014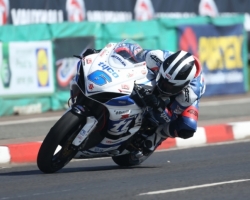 2014 International North West 200 - Tuesday Practice
Tyco Suzuki's William Dunlop holds the provisional pole position spot for the Supersport class, following day one of qualifying for the International North West 200 in Northern Ireland.
Dunlop also finished fourth in the Superbike class, just one place behind team-mate Guy Martin, who posted the sixth fastest time in the middleweight division. Dunlop and Martin were seventh and tenth respectively in the Superstock session, which was red flagged.
William Dunlop:
"I'm pretty pleased with that for an opening day at the North West. I had every confidence we could be up there on the GSX-R600 Supersport bike but was also looking for a top ride on the Superbike. I will take fourth place happily. We had no major problems and with more time on the Superstock bike in a full session we can get well up the grid."
Guy Martin:
"Can't complain too much about that. Top three on the Superbike and well within striking distance on the 600 shows we are already competitive. The weather was mint and the circuit is in pretty good nick apart from turn two – but it's the same for everyone. The Superstock session was cut short but yeah, a decent first day."

Philip Neill – Team Manager:
"The first day here can be a bit fraught but we've done well considering and haven't struggled, showing the pedigree of all our GSX-R machinery. All the bikes are well qualified; we just need some fine-tuning and to keep our mind on the job now for Thursday morning. Then we go racing, but we're ready for it."

Tuesday Practice Times
Supersport
1st – William Dunlop [Tyco Suzuki] 4min 41.401sec/114.754mph; 2nd – Michael Rutter [Triumph] +1.384sec; 3rd – Alastair Seeley [Yamaha] +1.423sec; 4th – Lee Johnston [Honda] +1.568sec; 5th – Gary Johnson [Triumph] +2.288sec; 6th – Guy Martin [Tyco Suzuki] +3.116sec; 7th – John McGuinness [Honda] +4.633sec; 8th – Michael Dunlop [Honda] +5.735sec; 9th – Josh Brookes [Yamaha] +6.499sec; 10th – Bruce Anstey [Honda] +7.845sec; 16th – Ian Hutchinson [Yamaha] +8.913sec
Supersport Lap Record: Keith Amor [Honda] 4min 37.591sec/116.329mph – [Supersport Race 2 - 2010]
Superbike
1st – Michael Rutter [BMW] 4min 26.643sec/121.106mph; 2nd – Alastair Seeley [Kawasaki] +1.601sec; 3rd – Guy Martin [Tyco Suzuki] +2.104sec; 4th – William Dunlop [Tyco Suzuki] +3.443; 5th – Martin Jessopp [BMW] +5.625sec; 6th – Josh Brookes [Milwaukee Yamaha] +5.805sec; 7th – Bruce Anstey [Honda] +6.138sec; 8th – Michael Dunlop [BMW] +6.288sec; 9th – Simon Andrews [BMW] +6.736sec; 10th – Lee Johnston [Honda] +6.748sec
Superbike Lap Record: Alastair Seeley [Suzuki] 4min 24.960sec/121.875mph – [Superbike Race 2 – 2010]

Superstock
1st – Horst Saiger [Kawasaki] 4min 32.427sec/118.535mph; 2nd – Michael Rutter [BMW] +0.099sec; 3rd – Stephen Thompson [BMW] +0.277sec; 4th – Martin Jessopp [BMW] +0.511sec; 5th – Simon Andrews [BMW] +0.805sec; 6th ¬– Lee Johnston [Honda] +1.727sec; 7th – William Dunlop [Tyco Suzuki] +2.331; 10th – Guy Martin [Tyco Suzuki] +3.540sec
Superstock Lap Record: Michael Rutter [Kawasaki] 4min 28.757sec/120.153mph [Superstock 2, 2012]

Thursday May 15 Practice Schedule
Practice – Roads Close 09.15hrs to 14.45hrs
(Times are approximate)
1st Session Supertwin 10.00 to 10.50hrs
2nd Session Superstock 11.05 to 11.55hrs
3rd Session Supersport 12.10 to 13.00hrs
4th Session Superbike 13.15 to 14.15hrs
Thursday May 15 Race Schedule
Racing – Roads Close 17.15 to 21.00 hrs
(Times are approx)
Race 1 Supersport (6 laps) 18.00hrs
Race 2 Supertwin (4 laps) 19.00hrs
Race 3 Superstock (6 laps) 20.00hrs
Saturday May 17 Race Schedule
Roads close 09.30hrs
RACE 1 Supersport Race (6 laps) 10.30 am
RACE 2 Superbike Race (7 laps)
RACE 3 Supertwin Race (4 laps)
RACE 4 Superstock Race (6 laps)
RACE 5 NW200 Superbike Race (7 laps)
General News
,
Racing
All Article Tags