Quality Tools & Controls
Your motorcycle tools, cables, and controls specialist!
Chat is Offline
Account
Jul 20, 2009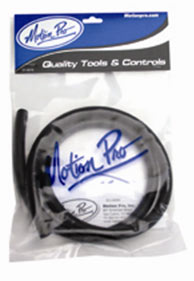 In addition to all the tools and controls that Motion Pro manufactures, we also offer staple products like fuel line and fittings. Motion Pro offers a broad range of fuel line types including clear PVC, braided vinyl, and our Premium fuel line, all of which are available in a variety of sizes. Our Premium fuel line is available in black, gray or clear and features excellent chemical resistance and greater strength and durability. Just introduced this year is our low permeation (LP) Premium fuel line. Our LP fuel line has the same outstanding chemical resistance and flexibility as our regular Premium fuel line and is 2008 CARB and EPA compliant.
Motion Pro fuel line is offered in twenty-five foot rolls packaged in easy to organize boxes with a perforated access that allows you to dispense fuel line right from the box. We also just introduced prepackaged 3-foot sections for the mechanic that doesn't need a huge box of fuel line. The 3-foot rolls are clearly marked with the fuel line type and size so you can easily identify them, and they are very affordably priced, so that you can have several different materials and sizes on hand without breaking the bank. Motion Pro fuel line has numerous uses other than carrying fuel, such as: brake fluid reservoir lines, vacuum lines, carburetor vent and drain lines, fuel transfer lines, and air box ventilation.
Motion Pro also offers a wide range of fuel line fittings including Y and T connectors, quick disconnect couplings, hose clamps, and O-clips, and all are available in a range of sizes. We also offer a selection of inline fuel valves for almost any need.
Motion Pro products are available from your favorite motorcycle dealer.
Featured Products
All Article Tags