Quality Tools & Controls
Your motorcycle tools, cables, and controls specialist!
Chat is Offline
Account
Talking Motorcycles - Barry Boone - June 4, 2014
Jun 4, 2014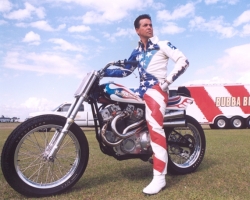 It's Daredevil Night!
Bubba Blackwell and Tyler Shepard
DAYTONA BEACH, FL (June, 2014) - Talking Motorcycles plays host to two unique individuals who make their living riding, flying and doing wheelies on motorcycles.
Join us LIVE tonight at 8:00 p.m. Eastern as we explore what motivates a man to risk everything to entertain fans.
Bubba Blackwell
What motivates a man to jump a Harley-Davidson XR750 over two running helicopters? We find out tonight as Bubba Blackwell jumps into Talking Motorcycles. He has jumped on the Tonight Show with Jay Leno, has jumped 15 tour buses, two rotating helicopters and broken every record Evel Knievel had set on the same motorcycle using the same size ramps. The World Record holder is continuing to build his resume as he now stars in the Discovery Channel's "Heirs to the Dare."
www.bubbablackwell.com Twitter: @HD Jumper
Tyler Shepard
Shepard is known as the Wheelie Wizzard. He has entertained fans all across America at the Monster Energy Supercross Series, AMA Pro Flat Track, Ripley's Believe it or Not, the Toughest Monster Truck Tour and more. He once did a public wheelie contest with Travis Pastrana. One of his tricks is to do major wheel stands with no front wheel on the motorcycle. Instagram: @wheeliewizzard
General News
,
Racing
All Article Tags