Quality Tools & Controls
Your motorcycle tools, cables, and controls specialist!
Chat is Offline
Account
RPM Racing Team Events Report
Jun 4, 2014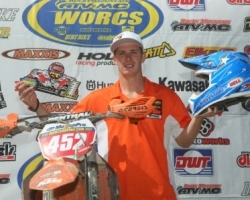 Travis Coy wins 3rd WORCS race in a row.
Ridgecrest California was hot and windy. Travis Coy rode his
KTM 450 XCF to another victory. "I just kept after it" said Coy.
"I was pretty tired at the 1 hour mark but I could see the leader and I just tried to keep gaining on him every lap". Coy passed for the lead on the last lap making this his 3rd WORCS Pro2 victory in a row.
Travis Coy also wins the AMA 6 days qualifier in Idaho. Travis won both days to take the overall.
Eric Yorba finished 5th at Ridgecrest. "I used to much energy early in the race. It made for a long day" said Yorba.
Yorba move to 4th in Championship points. He is in 1st place in the Big 6 series. Not bad for a rookie.
Justin Jones finished 4th. Jones is 3rd in WORCS Championship points. Justin also continues to win TWMX events and almost won the 2 Stroke World Championship. Justin won moto 1 and was leading moto 2 when a small mechanical issue caused him to finish back in the pack.
Chantelle Bykerk 2013 Women's Endurocross Champion too 1st place at the Orfino Idaho LoggerXross event.
Bobby Prochanau Finished 2nd in the Mens race.
Rachel Gutish has had a busy schedule. After the Las Vegas Endurocross she raced another National Enduro finishing 3rd. Went to Prom. Graduated High School. Raced GNCC finishing 6th in Masontown WV and now is on the way to XGames in Austin Texas. As soon as EnduroX is over Friday at XGames Rachel will load up and her family will drive to Millfield, OH for the John Penton GNCC event.
General News
,
Racing
All Article Tags