Quality Tools & Controls
Your motorcycle tools, cables, and controls specialist!
Chat is Offline
Account
HSBK Overcomes Adversity and Secures Valuable Points
Jun 5, 2014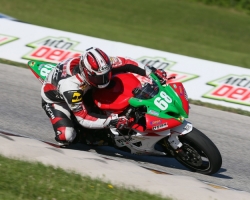 (Houston, TX) HSBK Racing finished round 2 of the 2014 AMA SuperSport season with another finish on the podium at Road America. HSBK Rider Dustin Dominguez was on a Houston Superbikes prepped Yamaha YZF-R6.
HSBK started the weekend with impressive times in qualifying running only .191 seconds behind pole position in qualifying 1 on Friday. On Saturday, Dominguez started on the front row and finished race one in 2nd place. This is his second podium finish of the season. He fell back in the pack during the first lap and showed what the bike was capable of while chasing his way back to the front. He had the fastest lap of the race by .86 seconds and made it clear that he is a contender for the championship.
On Sunday during race two, the team encountered multiple setbacks, but ultimately got a strong 8th. After being bumped by the same rider several times, Dominguez was run off the track after the second start. Shortly after another red flag was called and Dustin was forced to restart in 35th place with an abbreviated race and only 5 laps left to go. He was able to pass large groups of competitors at a time and make an impressive comeback in just a few short laps.

"The team worked hard all weekend and gave me a race winning bike. I can't thank them enough. I know I can speak for everyone on the HSBK Racing team when I say that we will be ready to win every race from here on out." commented Rider, Dustin Dominguez.

HSBK Racing is grateful to have supportive sponsors and loyal fans. Special thanks to LighTech Controls, DNA High Performance Filters, RSRacecraft, Orient Express, K-tech Suspension, GB Racing, TAW Performance, Ferodo Brake Pads, Capit, Concept Five Graphics, , Braking Rotors, Catalyst Racing Composites, Puig, Sunstar Chain & Sprockets, Motion Pro, Race Seats Italy, Samco Sport, Rizoma, Arai, Leo Vince, Silkolene, HT Moto, CRAP Eyewear, Yamaha, Dynojet, and Sidi.

Houston Superbikes

Established in 2005, Houston Superbikes (HSBK) caters to motorcycle enthusiasts with its diverse line of high performance bikes, parts and apparel. HSBK is proud to offer their own line of carbon fiber and billet accessories for racing and street applications. Offering dyno tuning, engine building services and suspension setup, HSBK is an industry leader in building Ducati and Aprilia race machines. For more information regarding HSBK, or to find out what HSBK can do for you, please visit www.houstonsuperbikes.com.

HSBK Racing

Founded in 2011, HSBK Racing is a division of Houston Superbikes showcasing its race parts and experienced technicians. Known for its bold and distinguishable red and black livery, HSBK Racing prides itself on showcasing up-and-coming riders from the U.S. and abroad
General News
,
Racing
All Article Tags