Quality Tools & Controls
Your motorcycle tools, cables, and controls specialist!
Chat is Offline
Account
Christie wins with Motion Pro Revolver Throttle
Jun 16, 2014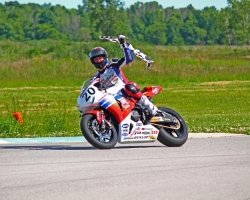 Christie Seizes Solid Points at Grand Bend

June 16, 2014 — This past weekend saw Jodi Christie and the Accelerated Technologies Honda team heading off to Grand Bend Motorplex in Grand Bend, ON, for round 2 of the SOAR (Southern Ontario Association of Racing) series. The event was also the first invitational weekend for RACE (Racing Associates Canada Events) competitors with SOAR. It was Jodi's first time at Grand Bend Motorplex so track time was very important.

The team entered the weekend in a different fashion compared to a national event, as crew chief John Sharrard was also attending the event to provide suspension services for SOAR competitors. Jodi and John pitted beside each other so they could work together whenever possible. They made quick work of the track and got down to a quick and comfortable pace within a few sessions on Friday.

Saturday's schedule of practice and qualifying was compacted into the morning to make enough time to run endurance races in the afternoon. Jodi continued to get comfortable on the track after a night of sleeping on the ideas from Friday's riding. The six-lap qualifying races took place shortly after practice; with lap times in the 50-second range, they were definitely sprints! In the Pro 600 class on his Honda CBR600RR, Jodi got a great launch from the third row and was leading into the second corner. From then on it was a battle for the lead, but Jodi managed to win for pole position on Sunday. Switching to his Honda CBR1000RR, Superbike qualifying was next and Jodi got a decent start from the 3rd row. Settling in 4th place in the opening laps, Jodi worked his way up to 2nd by the finish.

On Sunday, Jodi rode five laps of practice on each bike to get up to speed and make sure the bikes still felt comfortable after some changes had been made. The bikes felt great and during the break before the races Jodi put a set of brand new Dunlops on each bike. The first race of the afternoon was the Pro 600 final. With another great launch from pole Jodi found himself leading the the opening laps. When a pass was made for the lead, Jodi settled into a safe pace to see how the race would pan out; with so much on the line in the Canadian Superbike Championship this year, Jodi didn't want to take any unnecessary risks at a regional event. With lapped riders coming into the play that made it difficult to pass safely at the end of the race, Jodi finished a close 2nd.

In the Superbike race Jodi launched his CBR1000RR into the lead and put his head down at a comfortable pace to once again see how the race would shape up. Shortly after the halfway point, Jodi had stretched out a four-second lead. He then settled his pace down to bring home the win!

Jodi Christie: "I had a successful weekend here at Grand Bend Motorplex, My main goal was to come away safe with some points for the RACE Superseries championship. The track was fun to learn and I really enjoyed riding my Accelerated Technologies-prepared Honda CBR600RR and CBR1000RR here. I am happy to be on the bike in the time off between national rounds as it is a great chance to have some low-pressure fun while riding, and also a very good time to work on different ideas with the bikes and continue to learn every time I ride!"

John Sharrard: "We approached Jodi's first outing ever at Grand Bend Motorplex with our Shannonville motorcycle setup. We monitored tire pressure climb as well as front and rear suspension stroke to help us set up the Honda CBRs for Jodi as he quickly came up to speed. Astonishingly, he was on the fast Pro pace by his second practice session. We e-mailed our AiM Solo and Evo4 data to Andrew Trevitt in Vancouver and he helped us accurately envision the position of our Elka shocks and K-Tech forks as they were working on the track. With some slight spring rate and ride height changes, we had the bikes very well set up for Jodi by Saturday morning. Back at the shop we are finishing the preparation of Jodi's 2014 CBR600RR and CBR1000RR Superbike, so Jodi was using his 2012 and 2013 CBRs for this SOAR/RACE regional event. We continued to use standard available pump gas in our 600RR, where other regional competitors were using high-dollar VP race fuel that adds as much as 12 horsepower to a competitive supersport machine. This left Jodi at a horsepower disadvantage for the Pro 600 final, as he finished in 2nd place to Mitch Card, not wanting to risk a crash with our very limited budget. Jodi rode awesome in the Superbike race to take a win over the local pro racers that excel at Grand Bend. We are excited to finish up our A bikes and head to St-Eustache in a few weeks for the second CSBK National Superbike event!"

Jodi Christie Racing competes in the Mopar Canadian Superbike Championship and the R.A.C.E Superseries with support from Accelerated Technologies, Andrew Trevitt, Motovan, TCX Boots, Hindle Exhaust, Bazzaz, Dunlop, Aim Sports Data Acquisition, DID Chains, Orient Express, Blue Streak Racing, Motion Pro, Elka Suspension, Motul Oil, Renthal, Sunstar, Joe Rocket Leathers, Shoei Helmets, Mikey Moto, Zero Gravity, Bickle Racing, Gary & Roslyn Christie and Pro 6 Cycle. The next round of the CSBK series takes place at Autodrome St-Eustache in St-Eustache, QC, on July 4-6. Follow the team on Facebook (JodiChristieRacing) or Twitter (@JCRacing20). For more information about the Canadian Superbike Series and to watch the races online, visit www.csbk.ca.


Photo: Jodi Christie won the SOAR Pro Superbike race at Grand Bend Motorplex. Photo by Courtney Bickle.
General News
,
Racing
All Article Tags