Quality Tools & Controls
Your motorcycle tools, cables, and controls specialist!
Account
HSBK Racing's Dustin Dominguez leaves Barber with a 1 and 2
Jun 24, 2014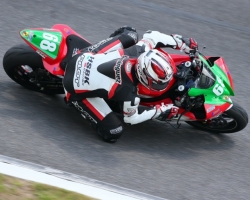 Houston, TX., June 24, 2014. HSBK Racing had an impressive weekend at the AMA Triumph Superbike Classic at Barber Motorsports Park. Dustin Dominguez rode the HSBK-prepped Yamaha YZF-R6 to the podium in both races. This is Dominguez first year on a Yamaha and he has continued to learn the nuances of the bike and improve his performance with every race.

The new two day abbreviated race format put more pressure on the team for every run on the track to go smoothly. Saturday the schedule held qualifying 1 and 2 as well as race 1. Qualifying 1 was used to build a good motorcycle for Dustin and in qualifying 2 Dustin was able to put the bike on pole with the fast time of 1:29.75.

Before race 1, a bike dropped a large amount of oil on the track during the last laps of the Superbike race. Dominguez opted to go slower out of the gate to test to see if the track was still slick. He also struggled with rear wheel grip, but his strong riding enabled him to finish with a solid second. For race 2, the team made a few changes to improve rear wheel grip.
The changes proved helpful with Dominguez grabbing the hole shot and leading most of the 15 lap race. Hayden Gilliam kept the pressure on Dustin most of the race and made for a great race. Dustin was able to make strategic passes on lappers and win the race with a gap of 1.78 seconds. The valuable points from the first and second finish put Dominguez in third in the points championship just 13 points behind the top two riders who are tied with 141 points.

"The team busted their butts giving me a bike that could win," Dominguez said. "I thank all the fans coming out here and sticking with us in this heat."

HSBK Racing is grateful to have supportive sponsors and loyal fans. Special thanks to LighTech Controls, DNA High Performance Filters, RSRacecraft, Orient Express, K-tech Suspension, GB Racing, TAW Performance, Ferodo Brake Pads, Capit, Concept Five Graphics, , Braking Rotors, Catalyst Racing Composites, Puig, Sunstar Chain & Sprockets, Motion Pro, Race Seats Italy, Samco Sport, Rizoma, Arai, Leo Vince, Silkolene, HT Moto, CRAP Eyewear, Yamaha, Dynojet, Pilot, and Sidi.
General News
,
Racing
All Article Tags