Quality Tools & Controls
Your motorcycle tools, cables, and controls specialist!
Chat is Offline
Account
Talking Motorcycles - Barry Boone - June 25, 2014
Jun 25, 2014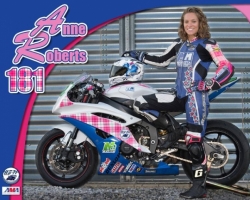 GIRLS GONE WILD
A Special Edition on the Women Who Road Race
DAYTONA BEACH, FL (June, 25 2014) - This week we have three ladies as our guests who thrive on the action and speed that only road racing can provide.
Olsen
Caroline Olsen joins us live to talk about her racing career to date. The Norwegian continues to improve her skill sets on the motorcycle and we'll find out more about the compelling story behind this exciting young professional.
Anne Roberts made her first career start as a professional motorcycle road racer at this weekend's AMA Pro event at Barber Motorsports Park. By any measure it was an excellent start. How did she get here and what are her plans going forward? We find out all that and more as we welcome Anne to the show.
Fernandez
Patricia Fernandez is becoming a solid performer as a professional road racer. We discuss her life as a racer, her career goals and more. What does she like to do away from the track and what does she intend to do on the track for the balance of the 2014 AMA Pro Road Racing season?
Join us tonight on this special GIRLS GONE WILD edition ofTalking Motorcycles with Barry Boone!
8:00 p.m. Eastern - Wednesday night
General News
,
Racing
All Article Tags