Quality Tools & Controls
Your motorcycle tools, cables, and controls specialist!
Chat is Offline
Account
Snowshoe Race Report
Jun 26, 2014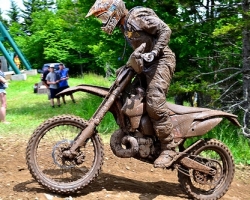 I found myself with a row 3 pick on the start. I was pretty stoked about this because it meant I only had to catch the front rows, not physically pass them. I was the first one of my group to the first corner; to bad, I was sliding on the pavement. I hoped up and got going again as the fourth row was coming.
By about the 4 mile I had passed most of the field and found myself on Brooke Cosner's heels, in second. I got by her on a sloppy straight away, but wasn't able to pull away. The first lap was super slick and I couldn't manage to stay off the ground. Every time I would pull a little gap I would find myself sliding face first through the mud.
Mid way through the third lap Brooke and I ran into a few gnarly bottlenecks. Trying to go up a side hill, I was t-boned by a guy coming across the track. After taking another run I was up and back on track. Through all the chaos I lost track of my position. I found out I was in 3rd, down about 3:30.
I pitted going into the fourth lap. The boys told me to calm down and ride smart before they sent me off. That didn't work out very well for me. I found myself in the bottom of Howard's hole. In the process I soaked myself from head to toe in slimy mud. I lost a lot of time and another position. Starting lap five, I was in fourth down about a minute.
It was time to charge. I caught Becca (3rd) on a nasty down hill near the 2 mile marker. We swapped positions multiple times before she got held up on a hill. I was able to get around and never saw her again.
I was pretty happy with my last three laps. I was able to turn it up and run about Kacy's lead pace. The last lap I really put the hammer down, being just under four minutes faster than the leader.
Snowshoe is one of my favorite races, so I'm kind of disappointed I couldn't pull out a win. I went in extremely confident, but some early mishaps left me a little out of reach. This was the final GNCC round for the summer. I have a National Enduro next weekend, then its time to enjoy my short break with a little relaxation and seat time.
General News
,
Racing
All Article Tags