Quality Tools & Controls
Your motorcycle tools, cables, and controls specialist!
Account
Waters looking for Scottish inspiration before Suzuka Test
Jun 30, 2014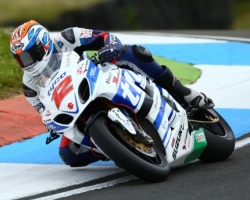 Josh Waters' Blog - June 2014
The start to the 2014 British Superbike Championship hasn't been easy. I'm not going to lie, but I really do feel we are starting to make progress now.
After round two of the championship at Oulton Park we had a six week break, but I was kept busy spending a fair bit of time riding my Suzuki DRZ125 with my Tyco Suzuki team mate Taylor Mackenzie and his brother Taz. I was also lucky enough to go to Italy with my beautiful wife Gin for a late honeymoon, as we tied the knot back in February at home in Australia. Straight after the wedding it was all a bit of a rush to get over to the UK to start testing [in Spain!] and get set up for the year ahead.
I also watched and supported my team Tyco Suzuki during the break at the two big international road races: the North West 200 and the Isle of Man TT. The North West 200 had great coverage and it was a successful week for the team with William Dunlop winning on the Superbike in an exciting race over his brother Michael.
I was then lucky enough to go over and watch the Isle of Man TT Races for a couple days. It was a great experience and everyone that races there are bloody brave after seeing it first hand.
The next few weeks are quite busy for me, which I'm really looking forward to, with round 4 of the British Superbike Championship at Knockhill in Scotland this weekend. After that I'm straight over to Japan to start testing for the famous Suzuka 8 hour. This year I'm lucky to be back with Yoshimura Suzuki, a team I have ridden for twice at the Suzuka 8 hour. It's a very hard event to compete in with the heat and speed of the race, but an event I really enjoy.
After Japan it's back to the UK for round 5 of the British Superbike Championship at the Brands Hatch GP circuit; then the day after I head back to Japan for the Suzuki 8 hour.
As you can imagine, I've a busy few weeks on the cards. I'm really looking forward to pushing things forward with Tyco Suzuki and starting to show the potential of the GSX-R1000 Superbike package, which I've always enjoyed riding throughout my career. Let's hope we can start at Knockhill this weekend and make the long flight to Japan that little bit more enjoyable.
Josh Waters
General News
,
Racing
All Article Tags