Quality Tools & Controls
Your motorcycle tools, cables, and controls specialist!
Account
News
Motion Pro Belt Tension Gauge
posted Jul 30, 2007
Tags:
Product Press Releases
All Article Tags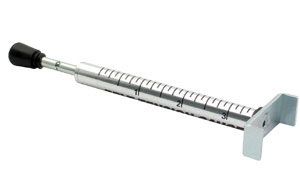 Most American V-Twin motorcycles and some European and Japanese bikes use a toothed, Kevlar reinforced belt for the final drive. The belt is lightweight, clean, quiet, mainly maintenance free and offers little drag, all of which are advantages over a heavy chain drive assembly. Drive belts can last tens of thousands of miles, but can be expensive to replace. Maximizing the lifetime of a drive belt requires careful wheel alignment, and most importantly, proper belt tension.
The Motion Pro Belt Tension Gauge (MP# 08-0350) makes it easy to check and set drive belt tension. Most belt specifications require a certain amount of deflection when 10 pounds of force is applied to the center of the lower belt. Using the Belt Tension Gauge is easy; you simply position the cradle in the center of the lower belt, and push upwards on the plunger until the scale on the shaft shows you have applied 10 pounds of force. The scale on the body of the tool will indicate how much deflection the belt has. Then, you can adjust the belt tension as recommended in your service manual, and double check with the Belt Tension Gauge. This simple tool is an excellent value with a suggested retail price of just $29.90. See your local dealer for this essential service item and check out the rest of the Motion Pro tool line at www.motionpro.com.