Quality Tools & Controls
Your motorcycle tools, cables, and controls specialist!
Chat is Offline
Account
Featured Products
11-0099

Coolant Recovery Tank, 275cc

Buy Now
Coolant Recovery Tank, 275cc
Jul 7, 2014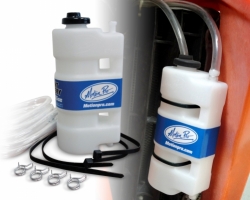 The new updated Motion Pro Coolant Recovery Tank is a useful accessory for many riders. For the off road rider, the tank helps prevent the loss of coolant on long hot rides, protecting your engine. For racers, a coolant recovery bottle is required by many organizations. For customizers or fabricators, the small size and variety of mounting and connection options make it a useful accessory.
The Coolant Recovery Tank has a 275cc capacity, and can be connected for either top or bottom inlet. The tank features handy mounting points, and the kit includes instructions, hose, clamps and zip ties for mounting the tank.
Featured Products
All Article Tags