Quality Tools & Controls
Your motorcycle tools, cables, and controls specialist!
Chat is Offline
Account
Events
Calendar
Continental US Shipping Only
Web orders ship to continental US addresses only. For AK, HI or international orders please
call or email
for assistance.
Featured Products
33-1400

Sprocket Bolt and Nut Fastening Kit

Buy Now
Sprocket Bolt and Nut Fastening Kit
Jul 7, 2014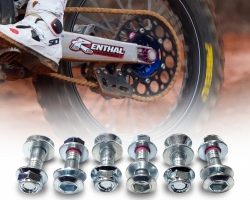 The Motion Pro Sprocket Bolt and Nut Fastening Kit consists of a full set of 6 special 8mm sprocket bolts, with flat washers and Fuji self-locking nuts. The bolt and nut assembly is made even more secure by pre-applied locking compound on the threads of the bolt. These kits are applicable to virtually every off road motorcycle produced, both Japanese and European. This kit is also a bargain, as some manufacturers will charge as much for one bolt assembly as the entire Motion Pro kit.
Featured Products
All Article Tags