Quality Tools & Controls
Your motorcycle tools, cables, and controls specialist!
Chat is Offline
Account
Schwantz to be reunited with '94 RGV500 at Donington Classic Festival
Jul 10, 2014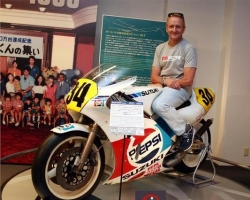 A host of exotic racebikes including Kevin Schwantz's 1994 Suzuki RGV500, Sete Gibernau's MotoGP Ducati, Joey Dunlop's Honda SP1 and a Honda RS250 ridden by the late Daijiro Kato have all been lined up to appear at next month's Donington Classic Festival - alongside Schwantz himself on his return from the Suzuka Eight-Hours.

The 1993 500cc World Champion will be on hand for all three days of the festival, which starts on August 8, to complete demonsration laps and autograph sessions, and there will also be a special dinner on August 9 in his honour.

It has been 20 years since Kevin's last win at the circuit, so in honour of this, Donington Park has teamed up with Team Classic Suzuki owner Steve Wheatman, to reunite Kevin with his favourite 1994 XR84 Lucky Strike Suzuki which carries the #1 plate.

Steve Parrish, the former motorcycle and truck racer, is also confirmed to make an appearance at the Class Motorcycle Festival weekend. Steve now commentates on motorsport for various British media channels and is set to join Kevin Schwantz to host the Saturday night event at Donington Park.

Parrish will play a commentary role throughout the weekend, and will also ride in the star parade on Sunday. Other special invited guests who'll be making an appearance include Graeme Crosby and Mick Grant.

"Following the overwhelming success of Donington Park's first Classic Motorcycle Festival last year, I have no doubts that this year's event promises to be an even bigger spectacle," said Donington MD Chris Tate.

"Alongside the large scale displays of motorcycle, both past and present, the action on track is set to be a major attraction, drawing interest from national and international guests.

"It will be fantastic to welcome both Steve Parrish and Kevin Schwantz back to Donington Park and it will be great to see their performances throughout the weekend."

In addition, the event will welcome the new Hesketh 24 bike. The exclusive Hesketh 24, the first all-new Hesketh model to be produced in thirty years by the British manufacturer, will be taking part in both parade and demonstration laps throughout the Festival.

Sammy Miller will also showcase bikes from his world famous Museum, which will include a 500 GP Konig similar to the one successfully raced by Kim Newcombe. Team Collins and Russell Kawasaki are also attending for the first time, bringing their collection of historic racing machines, such as the ex-Hurley Wilvert Kawasaki H2R two stroke triple.

Across the weekend, there will be a variety of races including, over 40 CRMC Championship races and Lansdowne Series races. As well as the Wheatcroft Trophy race there is the new Robert Fearnall Trophy, which will be presented to the team who best represents the Spirit of the Festival.

Alongside the Classic Bike Clubs Show, the crowd will also be treated to the rare appearance of a Lancaster Bomber as it takes to the skies at 12 noon on the Saturday.
General News
,
Racing
All Article Tags