Quality Tools & Controls
Your motorcycle tools, cables, and controls specialist!
Chat is Offline
Account
Riders Discount Triumph Continues to Close the Championship Gap at Mazda Raceway Laguna Seca
Jul 15, 2014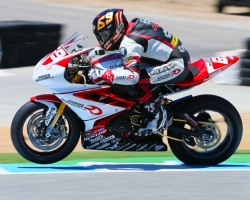 MONTEREY, Calif. (July 15) – With only nine points separating the top three AMA Pro GoPro Daytona SportBike Championship contenders at the conclusion of the AMA Pro Road Racing FIM Superbike World Championship, GEICO Motorcycle U.S. Round, the final two rounds are sure to provide some exciting racing with Mid-Ohio coming up in short order.

Danny Eslick finished on the podium for the first time since the DAYTONA 200 as the lead Triumph behind Lewis and Beach. Danny and championship leader, Jake Gagne, swapped positions numerous times in an exciting battle for 3rd that ultimately came down to a drag race to the finish line.

"What can I say? Jake Lewis rode a phenomenal race," said Danny. "It feels good to be back on the podium again. I can't thank Brian Gibson and all of the Riders Discount crew for all of their hard work. We had a solid race with the lead pack but I wasn't able to run their pace and found myself in a dogfight with Gagne. We swapped positions back and forth a few times before I finally beat him in the drag race to the finish line!"

"Solid weekend for the crew and Danny at Laguna Seca," said Brian Gibson, Riders Discount Triumph team owner. "Being such a new team at the top level in the US, it felt good to see the team gel and the bike constantly improve. I am looking forward to backing up what we learned with a strong showing this coming weekend at Mid Ohio."

The Buckeye SuperBike Weekend at Mid-Ohio is this coming weekend, July 19-20.
General News
,
Racing
All Article Tags