Quality Tools & Controls
Your motorcycle tools, cables, and controls specialist!
Chat is Offline
Account
Dominguez Sweeps Mid-Ohio in One Day
Jul 24, 2014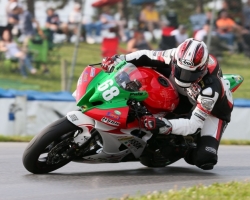 Dominguez Sweeps Mid-Ohio in One Day
Houston, TX (July 22, 2014) - After multiple rain delays at Mid-Ohio Saturday, the AMA made the decision to pack all the races into Sunday's schedule. The back-to-back events meant that everything needed to go flawlessly, and it did for HSBK Racing and Rider, Dustin Dominguez.
Because qualifying was rained out, starting position for race 1 on Sunday was based on point standings. Dustin started in third and battled into the first place spot by lap two. The limited pre-race track time and grid and go format meant that he had to keep even small mistakes to a minimum. He was able to build a gap and finished the morning race with a victory.
Race 2 gridded up based on the fastest laps in the morning race. Dustin was able to start in pole and hold his place through turn one. Dominguez commented, "I felt comfortable leading and wanted to (lead) each lap just to make sure if there was a red flag, I would get the most points possible." Second place was right behind him for all 11 laps and went for a tight pass on the last lap, but Dominguez was able to ride a strong defense and earned another victory.
Team Owner, Bobby Shek, said, "Dustin has sweeped Mid-Ohio in this class before. We knew that if we gave him a great machine he would be able to run up front. The rain Saturday put a lot of pressure on us to make sure the set up was on point with no practice, but the talented team pulled it off. This is a pivotal weekend for us getting our third win in a row with great momentum going into New Jersey."
In Dustin's race report he noted,"Mid Ohio has always been one of my favorite tracks. I knew going into the weekend I had to win both races to have a shot at the championship. This was the biggest weekend for me not just because I won both races, but because now I'm 2 points out of the championship and have good momentum going into the last race of the year. All the glory to God and can't thank my team and sponsors enough for providing me a bike and opportunity to win races. I'm ready to prove I have what it takes to win this championship!"
Special thanks to LighTech Controls, DNA High Performance Filters, RSRacecraft, Orient Express, K-tech Suspension, GB Racing, TAW Performance, Ferodo Brake Pads, Capit, Concept Five Graphics, , Braking Rotors, Catalyst Racing Composites, Puig, Sunstar Chain & Sprockets, Motion Pro, Race Seats Italy, Samco Sport, Rizoma, Arai, Leo Vince, Silkolene, HT Moto, CRAP Eyewear, Yamaha, Dynojet, Pilot, and Sidi.
HSBK Racing- Founded in 2011, HSBK Racing is a division of Houston Superbikes showcasing its race parts and experienced technicians. Known for its bold and distinguishable red and black livery, HSBK Racing prides itself on showcasing up-and-coming riders from the U.S. and abroad. For more information regarding HSBK Racing please join us on Facebook at www.facebook.com/hsbkracing and @hsbk1 on Twitter - we appreciate all your support!
Houston Superbikes- Established in 2005, Houston Superbikes (HSBK) caters to motorcycle enthusiasts with its diverse line of high performance bikes, parts and apparel. HSBK is proud to offer their own line of carbon fiber and billet accessories for racing and street applications. Offering dyno tuning, engine building services and suspension setup, HSBK is an industry leader in building Ducati and Aprilia race machines. For more information regarding HSBK, or to find out what HSBK can do for you, please visit
General News
,
Racing
All Article Tags