Quality Tools & Controls
Your motorcycle tools, cables, and controls specialist!
Chat is Offline
Account
Adventure and Dual-Sport Rally, Park City, Utah - Sept 26-28th - (Deer Valley Stein Eriksen Lodge.)
Sep 26, 2014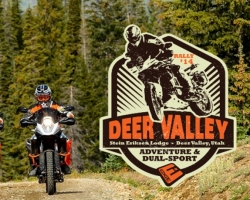 Off-road & Adventure Riders/ Racers
We want you to support and attend this multi-day rally and charity event for the Kurt Caselli Foundation. We want you for the whole event or simply come attend the biggest rider/racer party of the year Sat. Sept 27th at 7:00 Pm for the Caselli Movie and fundraiser. The Rally includes rides that are designed to be challenging and breath taking for both Adventure and Dual Sport riders on bikes ofany brand. Riders will be able to see some of Utah most impressive scenery stretching miles from Park City, Utah. We are happy to welcome Nancy Caselli and other members of the Caselli Foundation to our rally along with Gregg Godfrey, Iron Rider winner of the Baja 1000 and founder of Nitro Circus.
More information and registration at www.UtahKTM.com
PLEASE FORWARD THIS EMAIL TO YOUR RIDING BUDDIES!
The Stein Eriksen lodge is the perfect place to access Utah's backcountry. It is Utah's only 5 diamond hotel. Riders can attend all or just parts of the Rally. Don't miss it! www.Steinlodge.com
The rally benefits the Kurt Caselli Foundation & will feature hisMOVIE Sat. Night Sept 27th. After the film, attendees will have a chance to win and bid on great prizes! www.KurtCaselli.com
Factory 1190 Demo
KTM will be onsite with their factory semi and demo 1190s for riders. This is your chance to see why the magazines call this the Most capable adventure bike. www.ktm.com
---
View original article at
http://us8.campaign-archive2.com/?u=a6eb5de89343d4b5d3b8e17f5&id=c9948b930c&e=bc36bc0db0
Events
,
Calendar
All Article Tags