Quality Tools & Controls
Your motorcycle tools, cables, and controls specialist!
Chat is Offline
Account
Rockstar Energy Racing Concludes 2014 Season in Utah
Aug 26, 2014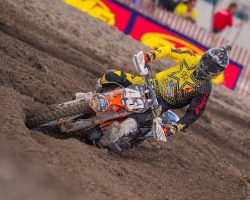 The team left Indiana and traveled to Tooele, UT just outside of Salt Lake City facing the threat of another large storm looming on the horizon and the final race of the 2014 MX season. After trudging through severely muddy conditions at Ironman, the only solace for the impending repeat experience was the Miller Motorsports Park facilities. Unlike any other location, the pits at the Utah stop are completely paved, making for a much better working environment for the crew. The rain did end up coming down torrentially Friday evening but lost steam before race day. The track was a bit muddy in the morning but aside from the occasional sprinkle, the precipitation had ceased. Joey Savatgy did not necessarily back up his performance from Ironman Raceway, but he did continue his recent consistency with yet another solid outcome in 7th. That means that in the final 5 races of 2014, he did not finish outside outside the top 10 once, including the outstanding 2nd overall a week ago. Even more impressive are his starts. The young rider almost never starts outside of the top 5. It's no secret how important starts are at this level, or any level for that matter. As Joey gains experience to go with his starts and steady finishes his results will improve even further. All indications point to a bright future for Mr. Savatgy. Joey Savatgy: "Starts were great today. Top 3 both motos and got the holeshot in the second moto. First moto had a few issues, battled with my teammate for a little bit and then got some dirt in my goggles. I kind of struggled with that and faded a little bit. Probably should have been top 5. In the second moto I ran with the good start and did what I could. I had a bit of a hard time today, the track was gnarly. It's one of those deals where I'm pumped to be walking out of here in one piece and ending the season on a good note. From where we started to where we ended was a huge step forward. At the end of the day I will take that." Jason Anderson's final 250 class motocross season was undeniably a tumultuous one. While it had very bright moments, including his first ever moto win at Budds Creek and a few podiums, there were also DNF's, crashes and less than stellar outings. It may not have been the final season Anderson was hoping for but one must not forget that he is also the current 250 West Coast Champion. Although Jason will not be able to defend that title, he is more than eager to move up to the premiere 450 class and advance his career. His season ended in Utah with a minor injury forcing him to DNS the final moto of the year. Luckily it will be a quick recovery and Jason will not miss a beat in his preparation for 2015 and continued future success. Jason Anderson: "Today was pretty much a wash. Not the way I wanted to end my career in the 250 class. I went down in practice and cut my arm up pretty bad. I had to go and get stitched up a couple times and I tried to ride the first moto. It didn't go that well and I had to sit out moto 2. Going to go get some x-rays on my elbow and start focusing on moving up to the 450 class." Ryan Sipes' temporary transition from GNCC racing back to motocross started rough and somewhat below what may have been forecasted and ended great, surpassing expectations. If you put an average on those results, that makes a very successful effort by the fill-in rider. Ryan put in two very good results in Tooele. Coming through the pack in moto one and just missing the holeshot in moto 2. After making an error in the latter moto and dropping back, Sipes really made a push for the top 5. He was thwarted by a lapper with just a couple laps to go losing ground the he was unable to reclaim but still crossed the line in an extremely respectable position picking up 6th overall in the process. Ryan Sipes: "Utah National was fun. Another solid weekend for me I felt. First moto I started around 15th and passed my way up and had a good battle with [Chad] Reed and ended up 9th. The second moto I knew I needed a better start and I got a better gate I felt like. I started off 2nd and battled it up with those guys. That top 4 is really fast and I don't necessarily expect to beat them but I felt like I had a 5th in me. I made one big mistake out there and let [Brett] Metcalfe by, then the whole race I was right on his rear wheel trying to get by but I couldn't make it happen. I'm really excited to get out of here healthy cause this place is kind of gnarly and end the season on a good note." A big transition now lies ahead for the entire RER squad. For the second consecutive year, the team will be changing bike brands to Husqvarna, creating a lot of work to be done. Savatgy will aim to carry his momentum over through the off-season into 2015. Anderson who will be stepping up to big bikes, will be seen racing the Husky 450 as soon as next month. For Sipes, the season is not yet over. He still has 4 more GNCC races starting when the series reconvenes in two weeks. It's hard think that he will be able to stay away from Supercross and Motocross next year after such an impressive performance filling in for Davi Millsaps.
Racing
,
General News
All Article Tags