Quality Tools & Controls
Your motorcycle tools, cables, and controls specialist!
Chat is Offline
Account
Destry Abbott's Atlanta Race Story
Aug 27, 2014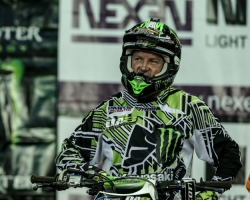 Destry's Endurocross Race Report from Atlanta, Georgia!
After spending quite a bit of time walking and checking out the track I was really excited and thought the course was going to make for some great racing! I headed to the track early Saturday morning to support all my DA8 Riders, and also work as Cooper's mechanic to try to get him into the night show! He looked great in practice and during the first Amateur heat he rode awesome and pulled off a 2nd, which put him in the Amateur Main event night show. Then a little later he had his Expert race, and if he qualified here he would be racing with all the pro's tonight. Cooper had another great start and rode amazing qualifying 2nd in his Expert heat. I was super pumped for him, because he would be racing with me tonight!
After opening ceremonies it was off to the gate since I was moto one! You can pretty much guarantee my heat or LCQ's will be the stacked ones. It's just the luck "or bad luck" of the draw since it goes by hot laps. With only three going on to the main and having guys like Taddy, Robert, Kailub, Brown, Gerston, Nicoletti, and Wild Wally in my heat I knew it wasn't going to be easy. I actually had a great jump and was right there, but got pushed wide and was in last over the first log. I had my work cut out for me! Luckily I nailed all the gnarly stuff the first lap and on the second lap I was up to 4th and right on 3rd. I went to jump the log double and came up short, which wasn't actually that bad and landed on my skid plate. As soon as I did this I heard a big pop from my bike. When I rolled down the other side I broke something in the SSF forks and only the spring side was working. It was one of those really freak things and there was no way I could ride it so I pulled off right away. I went back to the pits and really only had one option. Cooper was in heat two and as soon as he was done I was going to have to take his forks off and put them on my bike.
Cooper had a great start in his Expert heat, but wasn't able to make it out either. As soon as he got back I pulled off his forks and put it on mine so I could race the LCQ. They always have two LCQ's and I was hoping we were going to be in different ones. Unfortunately we were in the same one, which meant he wasn't going to be racing the LCQ. However Coop was fine with that since he wanted to save himself for the Amateur main right after the LCQ's.
My luck started changing in the LCQ! I had the last gate pick since I didn't finish the heat race, but had an amazing gate reaction (especially since I'm old:) I was into the corner first, but pushed a little and Max Gerston and Cory Gruffunder cut under me. A few sections later we had the dreaded Matrix section! I really only got the one lap of racing on it and did great, but this time I messed it up pretty bad and got stuck and Jordan Ashburn went by me. Now I was in 4th and they only took two. I just wanted to play it safe since this track was so gnarly and figured the guys in front of me were going to be making mistakes too. With two laps to go I was still right behind the guys and Cory had some bad luck in the Matrix section this time and I was able to get by. Now the white flag was out and I had Ashburn a few bike lengths in front of me. I was going to play it smart and then gamble in the Matrix section right before the finish to try and take second. I definitely got lucky and right before the wood pit he derailed a chain and I almost ran into the back of him. I was really pumped to make it into the main with the way things had been going all night!
Endurocross Main Event!!!
With a great crowd and one of the gnarliest courses we've had in a long time they were going to see an awesome show! Somehow I pulled off a really good start, and after the second turn I was in 5th. Then when we headed into my least favorite section of the night the "Dreaded Matrix" I went flying over the bars and got hit by another rider. By the time I got up and going I was last and as soon as I got out of it I was already getting lapped. I'm definitely not one of those riders that wants to get in the leaders way. I would let a few by and then race again, but the first few laps of the Matrix were killing me. I had a great battle with Ricky Russell for a while until I had to pick up my bike again! It was for sure a survival race and as bad as things were going, I wasn't going to pull off! I think this was the first time we've ever done a 15-laps main and I for sure hit the wall! I always tell my riders not to sit down, but I definitely had the anchors out and was in survival mode. I finished a disappointing 12th and knew I should've done better then that!
Overall, I had a great time and can't complain one bit! I feel very fortunate to be working with so many amazing riders and now having Cooper be part of it is even more awesome! As one of the old guys out there it's always fun, but challenging sometimes competing with these kids! I can't thank everyone enough that stopped by the DA8 pits and had great things to say. It for sure keeps me going too!
Pro Main Event Results
1st Taddy Blazusiak
2nd Cody Webb
3rd Coltan Haaker
4th Taylor Robert (DA8 Athlete)
5th Geoff Aaron
6th Kyle Redmond
7th Max Gerston (DA8 Athlete)
8th Ty Tremaine
9th Wally Palmer
10th Bobby Prochnau
11th Ricky Russell
12th Destry Abbott (DA8 Owner)
13th Mike Brown
Other Random Notes:
Friday night I did my second DA8 Endurocross Rookie riding school here at round 3. We had an awesome turnout with 14-riders signing up. They changed it up a little and you don't have to just be a rookie to take the class! If you haven't ever qualified for a main event they would let you in, so be sure to sign up for my next one! I had some amazing pro's that showed up to help too: Taylor Robert, Kailub Russell, Cody Webb, Max Gerston, Cory Gruffunder, Ty Tremaine, Cooper Abbott, David Broderick, and Noah Kepple.
I can't tell you how pumped I am to finally be launching my online training programs! We've been working on this for months and didn't want to release anything until I knew it was what I would expect it to be! Be sure to check outwww.da8training.trainerize.com for more details. Be sure to e-mail me if you have any questions!
I had 9- DA8 Athletes racing this weekend, which is pretty awesome since it was on the east coast. Of course Taylor was on it as usual and barely missed a podium finish, but won his heat race over Taddy! All my other riders put in great rides too: Cooper Abbott, Max Gerston, David Broderick, Noah Kepple, Odin Bartlett, Kody Clement, Alec Peronnard, and our female racer and points leader Morgan Tanke!
It's great to see the Endurocross series come to the east coast again. I met some amazing people that really knew a lot about off-road racing. It was cool to see most of the top East coast riders here racing too.
This coming weekend there's 8 of us top US Endurocross racers that are flying down to Columbia for a huge EX race they're hosting! I'm actually really looking forward to it and it's awesome to see how big EX racing is getting!
I have a lot of respect for Phil Nicoletti for coming and trying out the EX race! He was a super nice guy and definitely has a lot of talent! EX racing is so different and you for sure need to get a lot of seat time on these type of tracks!
It was really nice to not have to drive back east and I have to thank Odin Bartlett and his mom for taking mine and Cooper's bike back there.
General News
,
Racing
All Article Tags