Quality Tools & Controls
Your motorcycle tools, cables, and controls specialist!
Account
News
Back-to-back Fourth Place Finishes for Jordan Suzuki's Aaron Yates
posted Aug 8, 2007
Tags:
Racing
All Article Tags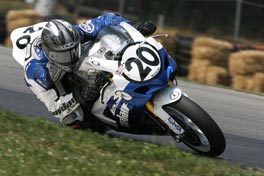 Rider Moves Up To Sixth Place in Overall Points
Lexington, OH (August 6, 2007) - Michael Jordan Motorsports Suzuki rider Aaron Yates took back-to-back fourth place finishes in the AMA Superbike doubleheader weekend at Mid-Ohio Sports Car Course in Lexington, Ohio. Yates qualified his Dunlop-shod Suzuki GSX-R1000 with a time of 1:25.030, earning his third front row start for his Jordan Suzuki crew.
In a very exciting AMA Superbike battle Saturday, Yates was momentarily relegated to sixth position and moved into fifth place when one rider lost his grip and low-sided out of contention. Yates battled for 13 laps and was able to move his motorcycle into fourth place, narrowly (.027secs) missing the last slot on the podium.
After a long rain delay on Sunday, the riders took to the track at 7:15 p.m. for the abbreviated 18-lap event. Yates got a good start and fought several other factory riders to move into fourth place, where he finished. He earned 27 points for each of his finishes, moving him into sixth place overall in the AMA Superbike Championship.
However, weather conditions forced officials to cancel the Superstock race this weekend, which was a disappointing turn of events for the Jordan team as Holden and Yates qualified for the event second and third respectively.
The next stop for the Jordan Suzuki team and the AMA Superbike Series is Virginia International Raceway in Alton, Virginia, August 17-19, 2007.
For more information on the team, visit the race team website at www.23race.com.
Legendary NBA star Michael Jordan formed Michael Jordan Motorsports in 2004 as a result of his passion for motorcycle racing. His mission is to bring a new level of excellence and style to the motorcycle racing industry.
The 2007 Michael Jordan Motorsports Suzuki team is proud to be partnering with Jordan Brand, American Suzuki, Upper Deck, Hanes, MMI - Motorcycle Mechanics Institute, AOL.com, Gatorade, Gemini Technology Systems, Boost Mobile, Bazzaz Performance, Dunlop Tire, Oakley, Yoshimura R&D, Vortex Racing, Makita Power Equipment, Roclun International, Ohlins Suspensions, Maxima Lubricants, Sharkskinz Racing Bodies, Motion Pro Tools and Cables, DID Chains, NGK Spark Plugs, Zero Gravity Windscreens, StompGrip Traction Pads, Factory Pro Dyno, Chicken Hawk Racing Tire Warmers, Ancra Tie-downs, STAR Motorcycle School, K&N Filters, Kicker Sound Systems, Sidi Boots, HJC and Shoei Helmets, VP Racing Fuels, World Championship Sports Network (WCSN.com), EXOST Digital Media, 23RACE.com, and transportation provided by Eastside Trucking.
Contact:
For Michael Jordan Motorsports - Suzuki:
Ken Abbott
Live Nation Motor Sports Inc.
Phone: 630/865-6420
Email: Ken@23Race.com
For Michael Jordan:
Alyson Sadofsky
JUMP.DC
Phone: 202/686-2000
Email: michaeljordaninfo@jumpdc.com